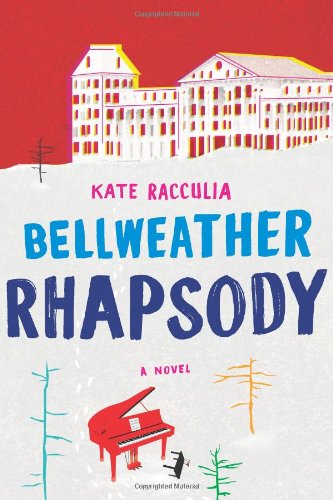 Publisher's Note:
A high school music festival goes awry when a young prodigy disappears from the most infamous room in the Bellweather Hotel, in a whip-smart novel sparkling with dark and giddy humor
Fifteen years ago, a murder-suicide in room 712 rocked the grand old Bellweather Hotel and the young bridesmaid who witnessed it, Minnie Graves. Now hundreds of high school musicians, including quiet bassoonist Rabbit Hatmaker and his brassy diva twin, Alice, have gathered in its cavernous, crumbling halls for the annual Statewide festival; Minnie has returned to face her demons; and a colossal snowstorm is threatening to trap them all in the hotel. Then Alice's roommate goes missing—from room 712. The search for her entwines an eccentric cast of characters: conductors and caretakers, failures and stars, teenagers on the verge and adults trapped in memories. For everyone has come to the Bellweather with a secret, and everyone is haunted. Bellweather Rhapsody is a genre-bending page-turner, full of knowing nods to pop culture classics from The Shining to Agatha Christie to Glee. But its pleasures are beautifully deepened by Kate Racculia's skill with her characters, her melancholy, affecting writing about music, and her fearlessness about the loss and darkness that underline the truest humor. This is a wholly winning new novel from a writer to watch.
Bellweather Rhapsody
by Kate Racculia
Overall Review:
This book was just as I had imagined it would be. No, wait...it was better than I had imagined it would be. I haven't read The Shining yet, but with the recent publication of Dr. Sleep I have placed it somewhere near the middle of my "to-read" list. Since I have not yet read The Shining, or seen the movie, I can't promise you this book is similar, but from what I have heard, they share similarities.
I'm not sure what endeared me to this book more: the lovely descriptions of the characters and their surroundings, the storyline, or the musical aspect. (I am not a musician myself, but music appreciation runs in my family.) There was a little bit of psychological thriller to this book, along with mystery and intrigue. A tragic event occurred years ago at a huge hotel and when a group of school-age musicians arrive at said hotel years later, things start going awry and they must decide to either band together or go their separate ways, and face the risks either way.
I always appreciate a book that is quite thick and yet I can easily read through on my day off. This book was wonderfully addictive, though I can't quite put my finger on why. Sometimes that is the best kind of book. I am fairly certain that you too will fall in love with the Hatmaker twins and their story. As an additional bonus, not only would adults like this book, but a mature teen would relate to the story just as well or better than their elders.
Content Analysis:
Profanity/Language: 7 religious exclamations; 17 mild obscenities; 11 derogatory names; 12 scatological words; 11 anatomical terms; 10 F-Word derivatives.
Violence/Gore: A suicide is mentioned and briefly described; domestic violence is briefly mentioned and described; a dying person with blood and gore is briefly mentioned; a character is mentioned to have been murdered; several frightening scenes are mentioned in brief; a character is mentioned to have had a heart attack
Sex/Nudity: Minors kiss; sex is referred to; sex is implied several times with no nudity or explicit detail; an extramarital affair is mentioned, a character is mentioned to be gay.
Mature Subject Matter:
Partying, death, domestic violence, suicide, spirits/supernatural, social conflicts (a character is mentioned to be gay).
Alcohol / Drug Use:
Adults and minors drink casually; smoking dope is mentioned; minors are mentioned to smoke a joint.
Reviewed By Lydia