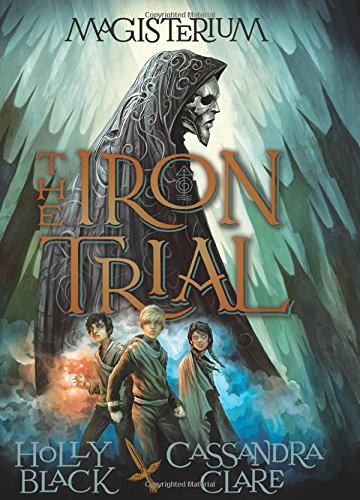 Publisher's Note:
Most kids would do anything to pass the Iron Trial.

Not Callum Hunt. He wants to fail.

All his life, Call has been warned by his father to stay away from magic. If he succeeds at the Iron Trial and is admitted into the Magisterium, he is sure it can only mean bad things for him.

So he tries his best to do his worst - and fails at failing.

Now the Magisterium awaits him. It's a place that's both sensational and sinister, with dark ties to his past and a twisty path to his future.

The Iron Trial is just the beginning, for the biggest test is still to come . . .

From the remarkable imaginations of bestselling authors Holly Black and Cassandra Clare comes a heart-stopping, mind-blowing, pulse-pounding plunge into the magical unknown.
This book was sent to Compass Book Ratings for review by Scholastic
The Iron Trial
by Holly Black and Cassandra Clare
Overall Review:
Are you ready for a new series about a magical world kept secret from non-magical people, with a school for children that show magical aptitude and an evil force gearing up to take over the world? Sound familiar? If you are a lover of magical worlds, like Harry Potter, then you are in for an exciting new find. Veteran writers, Holly Black and Cassandra Clare, have joined forces to bring us a new and magical series, Magisterium. The Iron Trial is the first novel in this 5 book series and it is a page turner that leaves one anxiously awaiting the next book.
In The Iron Trial we meet Call, a boy that has been raised to despise all things magical. He ends up at the Magisterium, where students learn to control the magic within them, and Call joins up with fellow students, Aaron and Tamara. Each has something about their past that they are trying to hide, but eventually they learn to work as a team, which is important as they gear up to face the evil forces that are growing more bold.
From a magical school, to a trio of young magicians, the plot line might sound familiar in a "been there, done that" kind of way, but the world that authors Black and Clare create is as unique as it is magical. This first book in the series is an intriguing introduction to a new world of magic that includes good versus evil, suspense, drama, action, devotion, friendship, and much creativity. The Iron Trial is definitely worth checking out if you've been looking for a new series that pulls you in so completely to a world of magic that you won't be able to put the book down!
Content Analysis:
Profanity/Language: 1 religious exclamation.
Violence/Gore: (Note: Most violence is of the magical/fantasy sort) character walks among the dead of a massacre of a magical battle and describes scene in some detail; message 'Kill the Child' is referenced a few times; character attacked and beaten by bullies (non-magical violence); 3 accounts of destruction to property caused by characters not being able to control their magic when angry; child forcibly taken from parent; knife thrown at character; secondhand account of how enemy massacred women and children; 2 instances of characters saying "I could kill you"; description of people that were injured and burned in battle with the enemy; description of how someone pushes magic too far and gets taken over by the elements and loses their soul; reference to students having been whipped in the past; characters attacked by magically altered animals; account of teacher bullying student; secondhand account of a student dying because of a magical experiment; character suspended by chains from a ceiling as a prisoner; magical creatures attack students; character killed by magical creature; secondhand account of a battle between the magical good and evil; roof of a building collapses while people are inside; description of how a soul can magically inhabit another body.
Sex/Nudity: None
Mature Subject Matter:
Death, bullying.
Alcohol / Drug Use:
None
Reviewed By Sally