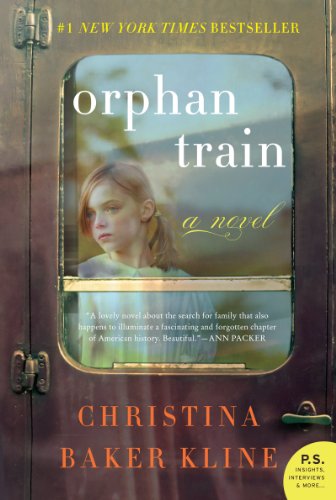 Publisher's Note:
Orphan Train is a gripping story of friendship and second chances from Christina Baker Kline, author of Bird in Hand and The Way Life Should Be.
Penobscot Indian Molly Ayer is close to "aging out" out of the foster care system. A community service position helping an elderly woman clean out her home is the only thing keeping Molly out of juvie and worse...
As she helps Vivian sort through her possessions and memories, Molly learns that she and Vivian aren't as different as they seem to be. A young Irish immigrant orphaned in New York City, Vivian was put on a train to the Midwest with hundreds of other children whose destinies would be determined by luck and chance.
Molly discovers that she has the power to help Vivian find answers to mysteries that have haunted her for her entire life – answers that will ultimately free them both.
Rich in detail and epic in scope, Orphan Train by Christina Baker Kline is a powerful novel of upheaval and resilience, of unexpected friendship, and of the secrets we carry that keep us from finding out who we are.
Orphan Train
by Christina Baker Kline
Overall Review:
Travel back in time with Christina Baker Kline's touching novel, Orphan Train. A beautifully crafted story, Orphan Train tells the tale of two intriguing women, Vivian and Molly. While Molly's story occurs in the present-day, Vivian's journey spans several decades and locations. In most dual timeline books, one storyline is more favorable than the other, yet in Orphan Train, each page is enjoyable. Kline's stirring, well-developed plot made it easy to develop strong emotional ties to the characters and their plight. I found it very difficult to not skip ahead and check to see how things turn out! Kline's impressive historical research really peaked my interest about actual orphan trains and their important place in American history. With an author Q & A and reading group guide, Orphan Train is not only an entertaining and informative read, but would make a fantastic book club choice.
Content Analysis:
Profanity/Language: 4 religious exclamations, 12 mild obscenities, 1 religious profanity, 2 derogatory names, 15 scatological words, 6 anatomical terms, 8 f-word derivatives
Violence/Gore: Several secondhand reports of violence involving child abuse, warfare and revolution; two brief scenes of violence; a non-detailed scene of violent death; a brief scene of attempted rape of a minor.
Sex/Nudity: Several incidents of kissing; a few reported incidents of sexual activity; a few incidents of touching areas normally covered by a bathing suit; a brief scene of attempted rape of a minor.
Mature Subject Matter:
Death of family members, drinking by minors, attempted rape of a minor, incarceration of a family member, abandonment and neglect, brief mentions of suicide, drunk driving, speakeasies, and drug abuse.
Alcohol / Drug Use:
Characters drink and smoke frequently; a minor gets drunk; in an extended scene, characters drink and converse in a bar; drunk driving; drug abuse.
Reviewed By Rachel