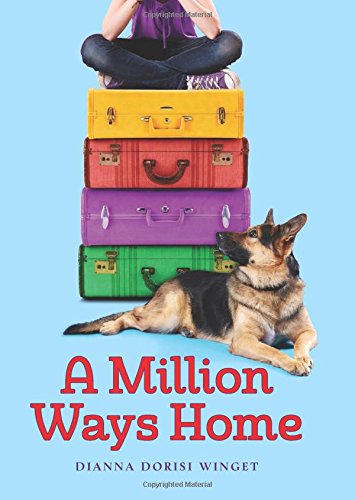 Publisher's Note:
A moving middle-grade story about love, loss, and the unlikely places we find home.

Poppy's life has been turned upside down after her grandma (and guardian) had a stroke and ended up in the hospital. But Poppy is working on a plan to help Grandma Beth so their life together can go back to normal. But when she witnesses an armed robbery, "back to normal" slips even further out of her reach. To keep Poppy safe, the budget-strapped police devise an unusual "witness protection program," wherein Poppy will stay with Detective Brannigan's mother. Soon Poppy is feeling almost at home, even making sort-of friends with a girl named Lizzie and definitely friending Gunner, a beautiful dog with an uncertain fate. But it's still not home. So while she and Lizzie navigate a rocky friendship and plot to save Gunner's life, Poppy also tries to figure out a new plan to save Grandma Beth and their home, all while avoiding a dangerous robber who might be searching for her. But what if Grandma Beth can never come home and the robber is put behind bars? What will happen to Poppy then?
This book was sent to Compass Book Ratings for review by Scholastic
A Million Ways Home
by Dianna Dorisi Winget
Overall Review:
A snow globe that's been turned upside down and shaken--that is how Poppy Parker describes her life after her grandma and guardian suffers a stroke. While Poppy is living in a government run home, she becomes a key witness to a crime and all of this keeps her from finding her footing as the pieces of her life fall around her. A Million Ways Home by Dianna Dorisi Winget is a wonderful middle grade novel that illustrates how sometimes life turns out how we least expect it and in ways that we could never have imagined, as long as one recognizes the mistakes made and takes hold of the second chances given.
It's along this journey to, maybe not happily ever after, but to something better than expected, that we see Poppy grow and mature. She starts out as an impulsive and rash twelve year old, who doesn't really think about her actions or the consequences. But along the way she meets a handful of people and even a dog, who help her realize that this has been the cause of some of her turmoil. As she lets others into her life, she matures and learns that even though she can't change the fact that her Grandma had a stroke, she can at least make the best of the second chance she has been given. It is her flaws and impulsiveness that allow her room to grow and it is this growth that makes A Million Ways Home such a heartwarming and touching read.
Content Analysis:
Profanity/Language: 4 religious exclamations.
Violence/Gore: Account of person robbing store; non-detailed account of a murder; character approached and threatened by a criminal; a few mentions of how a character's parents died in a terrorist bombing; character caught vandalizing; character briefly mentions "whippings" received as a child; discussion of putting animals down; mention of dog having bitten a child; criminal follows two girls; criminal highjacks a car; character breaks a light bulb and cuts hand; secondhand account of death of young girl caused by the girl's brother.
Sex/Nudity: None
Mature Subject Matter:
Death, stealing, foster care, euthanasia of animals, divorce.
Alcohol / Drug Use:
Death of character's spouse attributed to smoking; adult character drinks a beer on two occasions.
Reviewed By Sally