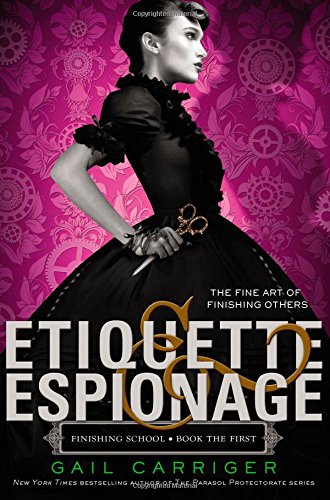 Publisher's Note:
It's one thing to learn to curtsy properly. It's quite another to learn to curtsy and throw a knife at the same time. Welcome to Finishing School.
Fourteen-year-old Sophronia is a great trial to her poor mother. Sophronia is more interested in dismantling clocks and climbing trees than proper manners--and the family can only hope that company never sees her atrocious curtsy. Mrs. Temminnick is desperate for her daughter to become a proper lady. So she enrolls Sophronia in Mademoiselle Geraldine's Finishing Academy for Young Ladies of Quality.

But Sophronia soon realizes the school is not quite what her mother might have hoped. At Mademoiselle Geraldine's, young ladies learn to finish...everything. Certainly, they learn the fine arts of dance, dress, and etiquette, but the also learn to deal out death, diversion, and espionage--in the politest possible ways, of course. Sophronia and her friends are in for a rousing first year's education.
Set in the same world as the Parasol Protectorate, this YA series debut is filled with all the saucy adventure and droll humor Gail's legions of fans have come to adore.
This book was sent to Compass Book Ratings for review by Little, Brown Books for Young Readers
Etiquette & Espionage
by Gail Carriger
Overall Review:
Werewolves? Vampires? Boarding School? Assassins? Steampunk? Alternate 1800's England setting? No, this is not a list of the current trends in young adult fiction; it is a list of the elements in Etiquette & Espionage. Think it sounds like a hodge-podge? Think again because author Gail Carriger makes it work brilliantly and seamlessly. With her tongue set firmly in cheek and abundant dry humor, she pulls off this feat by having a consistent voice, clever dialogue, and a plucky protagonist. Sophronia has everything a reader loves in a heroine: resourcefulness, a keen mind, and a sense of adventure. Character names that would make Charles Dickens proud are a bonus feature. Fun, fast, and frothy, Etiquette & Espionage is a witty and wonderful young adult read. Fans of Sorcery and Cecelia or the Enchanted Chocolate Pot should definitely pick this title up. Looking forward to more in this delightful series!
Content Analysis:
Profanity/Language: 1 mild obscenity; 1 anatomical term.
Violence/Gore: Robbery at gunpoint with shots fired, character knocked unconscious, threats at gunpoint, and young woman slapped across face by a man; characters fired upon; character asked if she has killed anyone recently; character purposefully stabbed during training exercise, blood briefly mentioned; character told she should learn to kill something; exchange of gun and cannon fire resulting in destruction of property, but no injuries; report of class on how to kill using a garrote, non-detailed; creature attempts attack upon a human character; blood is seen around a mythical character's mouth, no details; sparring; character is tripped; robbery thwarted by throwing objects; non-detailed scene with threats at gunpoint, destruction of property by fire, kicking, and throwing objects.
Sex/Nudity: Sexual references/innuendo, such as reference to "endowments", a room being decorated like a house of ill-repute, decolletage, cleavage, a character is thought to "stuff" her corset, reference to werewolves doing the "best...ooh la la" with character wiggling hips.
Mature Subject Matter:
Social classes, racial prejudice, bullying, training to be a spy/assassin.
Alcohol / Drug Use:
Teenage students possess a flask with assumed alcohol beverage and attempt to pour into punch at a party.
Reviewed By Cindy