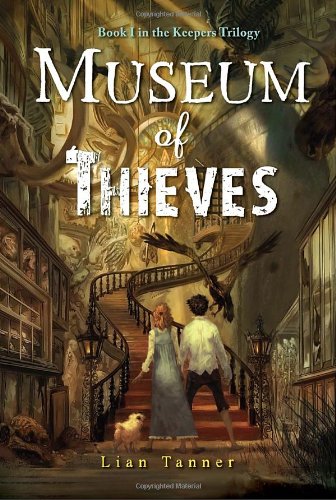 Publisher's Note:
Welcome to the tyrannical city of Jewel, where impatience is a sin and boldness is a crime. Goldie Roth has lived in Jewel all her life. Like every child in the city, she wears a silver guardchain and is forced to obey the dreaded Blessed Guardians. She has never done anything by herself and won't be allowed out on the streets unchained until Separation Day.

When Separation Day is canceled, Goldie, who has always been both impatient and bold, runs away, risking not only her own life but also the lives of those she has left behind. In the chaos that follows, she is lured to the mysterious Museum of Dunt, where she meets the boy Toadspit and discovers terrible secrets. Only the cunning mind of a thief can understand the museum's strange, shifting rooms. Fortunately, Goldie has a talent for thieving.

Which is just as well, because the leader of the Blessed Guardians has his own plans for the museum—plans that threaten the lives of everyone Goldie loves. And it will take a daring thief to stop him. . . .
Museum of Thieves is a thrilling tale of destiny and danger, and of a courageous girl who has never been allowed to grow up—until now.
This book was sent to Compass Book Ratings for review by Yearling (A Random House Children's Imprint)
Museum of Thieves
by Lian Tanner
Overall Review:
Museum of Thieves by Lian Tanner is a solid addition to the world of children's fantasy. Her cast of characters, "some quite charming and some quite chilling", are varied, likeable, and believable. Goldie and Toadspit, the main characters, are determined, capable children and will appeal to both male and female readers. Set within a city obsessed with protecting everyone from everything is a museum that looks like Night at the Museum with an attitude. Tanner knows how to turn a phrase and she is given high marks to her free-flowing dialogue, quality writing, and imagery. Also excellent was the action that pushed through to the climax. Museum of Thieves is the first in a trilogy and recommended to young fantasy and adventure lovers.
Content Analysis:
Overall, violence was brief, non-detailed, and often merely reported. Specific violence noted was as follows: report of an explosion and the death of a child; a character almost being hit by a vehicle and being knocked into a ditch; report of a dog killing a cruel master; report of a character breaking a leg; a dog attacks some soldiers and there is blood on a dog's muzzle; character(s) verbally threaten to kill someone; a dog attacks a group of people and "was upon them, his great teeth snapping"; a dog is shot and injured and bleeds; there is a struggle between characters and a character is tied up; a character is shot and killed; there is a brief battle between soldiers and some of the soldiers are killed; a character is slapped.


One mild religious profanity was noted.
Mature Subject Matter:
Themes were mild in nature and included some of the following: independence, personal responsibility, overprotection, betrayal, thinking before acting.
The publisher recommends this book for ages 9-12 and unlike many of the books I have read recently, I agree with that recommendation. The danger, peril, and violence are not extreme and the book feels like an appropriate fit for 9-12 aged readers.
Alcohol / Drug Use:
***
Reviewed By Cindy