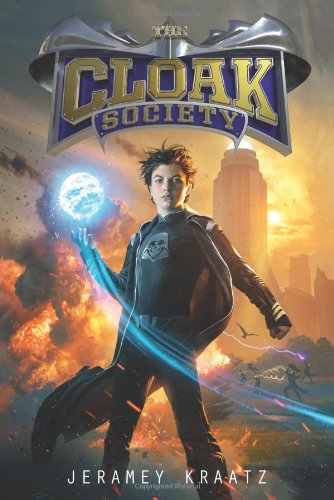 Publisher's Note:
The first in a thrilling, action-packed middle grade trilogy, which School Library Journal declared "will likely find the same wide appeal as Rick Riordan's Percy Jackson books.
The Cloak Society: An elite organization of supervillains graced with extraordinary powers. Ten years ago the Cloak Society was defeated by Sterling City's superheroes, the Rangers of Justice, and vanished without a trace. But the villains have been waiting for the perfect moment to resurface. . . .
Twelve-year-old Alex Knight is a dedicated junior member of Cloak who has spent years mastering his telekinetic superpowers and preparing for the day when Cloak will rise to power again. Cloak is everything he believes in.
But during his debut mission, Alex does the unthinkable: He saves the life of a Junior Ranger of Justice. Even worse . . . she becomes his friend. And the more time he spends with her, the more Alex wonders what, exactly, he's been fighting for.
The Cloak Society
by Jeramey Kraatz
Overall Review:
Fans of supervillains and superheroes rejoice! The Cloak Society is a middle grade action novel that tells the story from the villain's point of view. This novel blurs the line on many topics and addresses the fact that many things in life are a lot grayer than one thinks. While addressing some coming-of-age issues and the need to think and choose for yourself, this book packs a good punch. Top-notch and quality plot pacing propels this story along and a cast of honest, genuine, and varied characters give it heart. This book is the first in a series and can be enjoyed by not only younger readers, but also by teens because the tone and protagonist have a mature feel. Highly recommended!
Content Analysis:
Profanity/Language: None
Violence/Gore: Extended scene of confrontation with characters using superpowers resulting in injuries, destruction of property (non-graphic); report of deaths of parents in accident; superpowers used to detain someone; report of deaths/casualties in previous battles; training exercises with rubber bullets; fights during training practice utilizing superpowers and resulting in minor injuries; characters captured/kidnapped and rendered unconscious; verbal threats; extended battle utilizing superpowers, injuries resulting (non-graphic).
Sex/Nudity: None
Mature Subject Matter:
Death of parents, loyalty/betrayal.
Alcohol / Drug Use:
None
Reviewed By Cindy