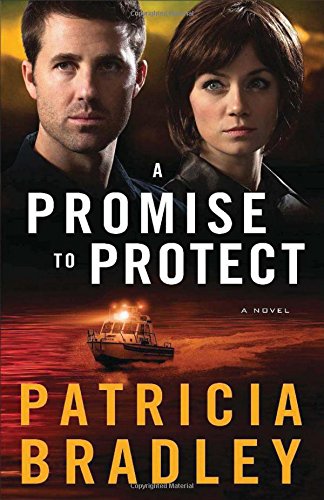 Publisher's Note:
Acting Sheriff Ben Logan hasn't heard from Leigh Somerall in a very long time, but it doesn't mean he can get her--or their whirlwind romance of ten years ago--out of his head. When she calls out of the blue, it is with a strange request to protect her brother, Tony. When Tony dies just days later, Ben is charged with a different task--protecting Leigh and her nine-year-old son, TJ, from the killers. But how can Ben keep an eye on Leigh if she's doing everything in her power to avoid him? And could the secret that Leigh is keeping change Ben's life forever?

Suspense, intrigue, and a touch of romance make A Promise to Protect perfect for readers who like their stories with a hearty dose of mystery.
This book was sent to Compass Book Ratings for review by Revell
A Promise to Protect
by Patricia Bradley
Overall Review:
A Promise to Protect by Patricia Bradley brings readers back to Logan Point, a small Mississippi town. Those unfamiliar with the Logan Point series will not feel left behind at all, even though this is the second book in the sequence. The book contains suspense, romance, and danger.
Bradley has a talent for describing the muggy, humid weather of the South without distracting readers from the story. In fact, she does such an effective job that the reader can almost feel the oppressive heat.
The story centers around a murder investigation. As the sheriff and his deputies try to solve the case, the perpetrators continue to do things to scare and distract the men from discovering who they are. Bradley tells parts of the story from the perspective of the criminals. She lets readers know who some of the culprits are and yet leaves one guessing for most of the book about the identity of others. This technique is surprisingly effective.
One of the attractive things about this novel is how well the author integrates so many different plot lines. She keeps readers interested by including many back stories without bogging down the book.
Content Analysis:
Profanity/Language: None
Violence/Gore: Many references to a character who was shot and killed, in one instance there is blood seeping into the carpet; report of a character committing suicide by overdose; reports of a character killing others; characters exchange gunfire and a character bleeds from resulting injuries; a car explodes and a character's leg bone is sticking out of the skin, blood mentioned; character hits another with an object; character is bitten by an animal.
Sex/Nudity: Character reminisces about how she and a boyfriend were caught up in the moment and it resulted in a pregnancy; unmarried characters kiss and embrace.
Mature Subject Matter:
Murder of a sibling, death of a spouse, suicide, pregnancy out-of-wedlock.
Alcohol / Drug Use:
Adult mentions someone used drugs; children are drugged with anesthetic; adult characters chew tobacco.
Reviewed By Susan