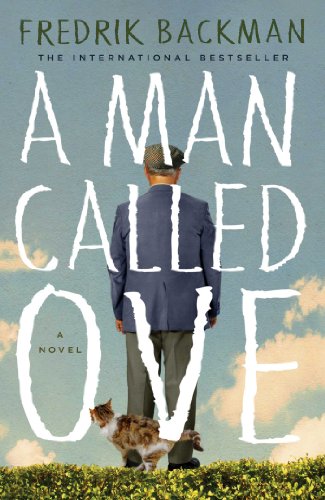 Publisher's Note:
In this bestselling and delightfully quirky debut novel from Sweden, a grumpy yet loveable man finds his solitary world turned on its head when a boisterous young family moves in next door.

Meet Ove. He's a curmudgeon—the kind of man who points at people he dislikes as if they were burglars caught outside his bedroom window. He has staunch principles, strict routines, and a short fuse. People call him "the bitter neighbor from hell." But must Ove be bitter just because he doesn't walk around with a smile plastered to his face all the time?

Behind the cranky exterior there is a story and a sadness. So when one November morning a chatty young couple with two chatty young daughters move in next door and accidentally flatten Ove's mailbox, it is the lead-in to a comical and heartwarming tale of unkempt cats, unexpected friendship, and the ancient art of backing up a U-Haul. All of which will change one cranky old man and a local residents' association to their very foundations.

A feel-good story in the spirit of The Unlikely Pilgrimage of Harold Fry and Major Pettigrew's Last Stand, Fredrik Backman's novel about the angry old man next door is a thoughtful and charming exploration of the profound impact one life has on countless others.
A Man Called Ove: A Novel
by Fredrik Backman
Overall Review:
I had an advance copy of this book on my Kindle, but for some reason I didn't read it right away, even though it was being heralded as a book similar to the likes of The Unlikely Pilgrimage of Harold Fry, a book which I adored greatly. I kept seeing my friends' ratings on Goodreads and finally our library purchased this book and I decided to read it once and for all. And boy, am I glad I did.
This book was just what I needed to gently show me that my elders are wise and probably have good reason to be a bit ornery. Ove is a man who at one time was a sort of king of the neighborhood. He lived in a quiet community that was kept spic and span, mostly because he and his "committee" kept it that way. But as time goes on he starts losing his grip on several things, and eventually he wakes up to find bikes being parked where they shouldn't be, and neighbors driving through his immaculate yard.
At first I wanted to laugh at Ove. He knew exactly how he thought his life should go (breakfast, lunch and dinner were all carefully mapped out and timed) and when it didn't go as planned, he threw an internal hissy fit. However, once a few things were made clear to me, I grew to feel pity for the old man who is so accurately depicted within the pages of this book. I can't say first-hand that Ove is a typical man in his late 50's, but it seems author Fredrick Backman has hit the nail right on the head. If you are looking for a book that will wriggle its way right into your heart and soul and stay with you for a long time, read A Man Called Ove. I don't think you will be disappointed.
Content Analysis:
Profanity/Language: 3 religious exclamations; 47 mild obscenities; 3 derogatory names; 21 scatological words; 1 F-Word derivative. Note: British use of the word "bloody" as an expletive was not tallied.
Violence/Gore: A character attempts suicide several times; a character falls onto train tracks in front of a train; child discipline is mentioned briefly; a nose bleed is briefly mentioned; a man loses his wife to natural causes; a building catches on fire, no casualties.
Sex/Nudity: A strip club is mentioned twice with no details.
Mature Subject Matter:
Death, personal crises, suicide, homosexuality.
Alcohol / Drug Use:
Adults drink; adults smoke; "drug dealing teens" mentioned.
Reviewed By Lydia