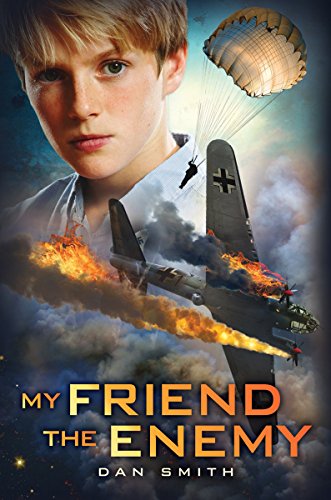 Publisher's Note:
Peter feels compelled to help a wounded German pilot, but he doesn't want to be a traitor--especially not to his father, who is off fighting the Nazis. A moving story about the moral dilemmas of war.

Summer 1941: For Peter, the war is a long way away, being fought by his father and thousands of other British soldiers against the faceless threat of Nazism. But war comes frighteningly close to home one night when a German jet is shot down over the neighboring woods. With his feisty new friend Kim, Peter rushes to the crash site to see if there's anything he can salvage. What he finds instead is a German airman. The enemy. Seriously wounded and in need of aid...

Continuing in the tradition of thought-provoking literature about the Second World War, Dan Smith's MY FRIEND THE ENEMY is a thrilling adventure that also personalizes the moral dilemmas faced by the children left behind on the home front.
This book was sent to Compass Book Ratings for review by Scholastic
My Friend the Enemy
by Daniel Smith
Overall Review:
Just as there are two sides to every coin, so it is with stories, and My Friend the Enemy by Dan Smith shows us one of those flip sides by giving the reader a different outlook on World War II. Peter, a twelve year-old English boy who lives on the coast of England, shares his perspective as the war comes too close to home during the summer of 1941. He experiences bombings and air raids, plane crashes, and a Nazi on the loose. Through it all he finds friendship and what it means to help someone in need.
In this novel, the realities of war are shown and told, but through the more innocent eyes of a young boy. Peter is faced with difficult choices throughout the summer and as he makes those choices his life is irrevocably changed for the better. My Friend the Enemy is not only a well-written work of historical fiction that gives a fresh point of view of that time period, but a coming of age story of Peter, as he goes from young boy to the threshold of maturity. From him the reader can see examples of accepting consequences to his actions, finding true friendships, learning to accept things that one cannot change, and change itself. Much can be learned from this novel, not only on a historical level, but also as a way to improve one's self and become a mature teenager. The lessons to be learned, however, are hidden away in the action of a coastal town in England that is threatened by the Nazi invasion and in the antics of a boy who needs a friend and strives to have a normal life despite the threat of war.
Content Analysis:
Profanity/Language: 10 mild obscenities.
Violence/Gore: Description of plane crashing and burning with witnesses hearing cries of the crew; mother slaps child; 2 accounts of non-life threatening injuries; 5 detailed accounts of bombings/air raids; 1 account of animal stepping on mine; brief secondhand account of character with parachute getting caught in a tail of the plane; account of soldier getting hit by machine gun fire; description of burnt body found in plane wreckage; threats/talk of killing enemy soldier; two characters cut their hands to take a blood oath; 2 accounts of fist fights; account of catching an animal in a snare and then killing it for food; character pokes area of where people are hiding with a bayonet and injures one person; character vandalizes personal property; character points gun directly at another person's head but does not shoot.
Sex/Nudity: 2 accounts of characters of opposite gender kissing on the cheek; 1 account of hand holding; 2 instances of hugging; characters gossip about another character implying infidelity.
Mature Subject Matter:
War, death implied infidelity, bullying, stealing, death of parent.
Alcohol / Drug Use:
Many characters (all adults) smoke cigarettes; children give a cigarette to someone as a gift.
Reviewed By Sally