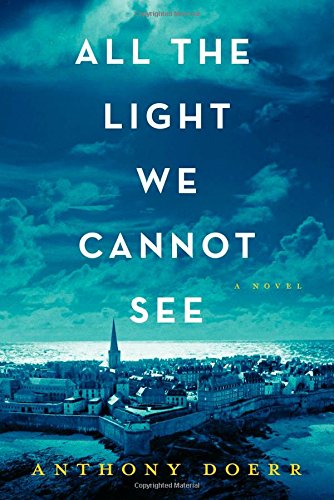 Publisher's Note:
From the highly acclaimed, multiple award-winning Anthony Doerr, the beautiful, stunningly ambitious instant New York Times bestseller about a blind French girl and a German boy whose paths collide in occupied France as both try to survive the devastation of World War II.

Marie-Laure lives with her father in Paris near the Museum of Natural History, where he works as the master of its thousands of locks. When she is six, Marie-Laure goes blind and her father builds a perfect miniature of their neighborhood so she can memorize it by touch and navigate her way home. When she is twelve, the Nazis occupy Paris and father and daughter flee to the walled citadel of Saint-Malo, where Marie-Laure's reclusive great-uncle lives in a tall house by the sea. With them they carry what might be the museum's most valuable and dangerous jewel.

In a mining town in Germany, the orphan Werner grows up with his younger sister, enchanted by a crude radio they find. Werner becomes an expert at building and fixing these crucial new instruments, a talent that wins him a place at a brutal academy for Hitler Youth, then a special assignment to track the resistance. More and more aware of the human cost of his intelligence, Werner travels through the heart of the war and, finally, into Saint-Malo, where his story and Marie-Laure's converge.

Doerr's "stunning sense of physical detail and gorgeous metaphors" (San Francisco Chronicle) are dazzling. Deftly interweaving the lives of Marie-Laure and Werner, he illuminates the ways, against all odds, people try to be good to one another. Ten years in the writing, All the Light We Cannot See is a magnificent, deeply moving novel from a writer "whose sentences never fail to thrill" (Los Angeles Times).
All the Light We Cannot See: A Novel
by Anthony Doerr
Overall Review:
I had no idea what I was in for when I began reading this book. I was a bit hesitant to start reading, as this book is pretty hefty and I knew it would take some time and dedication. I should never have been worried. The story was so captivating that I could hardly stop reading. Seriously. And it seemed to end too soon, even though to look at it you would think the story might drag on and on. No. This book rocks. I can't say enough good stuff about it. And the sad part?--I am the only patron to have checked it out from my public library so far. Let the book-talking commence!
So te first thing I fell in love with was the young girl in this book, Marie Laure, but not only Marie, but also her father, who seems to almost be an appendage of hers, or vice-versa. They spend loads of time together, which I think is awesome. I wish I had spent more time with my father when I was young. Marie Laure has a typical childhood for the most part, until she loses her sight. (Don't worry, this isn't a spoiler, as you could pick this book up at the bookstore and find this piece of information easily.) The blindness she suffers from would probably be considered an affliction to most people, but this little girl has a way of making the best of every situation, and she learns to live with her disease instead of feel sorry for herself.
That brings us to the second thing I loved about this book: how Marie Laure lives with her sightlessness. Her father has an intriguing job at a museum, and though he is often at work and cannot always be watching his daughter, he loves her and wants her to be safe in the city they live in. So he devises a system for her to be able to navigate the great city of Paris, even though she can't see a thing. The thoughtfulness and resourcefulness of what her father does for her, not to mention the creativity involved made me smile and almost wish I were blind, so I too could have someone take care of me in such a way.
This book also had a section narrated by a young boy who loved to invent things. While I was interested in these sections, I found myself speeding through them so I could get back to Marie's story. This book was all in all something that I would recommend to anyone and everyone. It was sweet, touching, and educational. I hope when you go to a library or bookstore you are able to find a copy. And when you do, make sure to read it and pass it on!
Content Analysis:
Profanity/Language: 1 religious exclamation; 1 mild obscenity; 3 religious profanities; 6 scatological words; 4 F-Word derivatives.
Violence/Gore: A dead person is briefly mentioned along with a bullet wound she died from; a mother and child are shot by soldiers; dead bodies are briefly mentioned upon several occasions with brief descriptions and mention of stench; war is mentioned and several scenes are described such as prisoners, injuries, mention of blood being splattered on equipment or people; several scenes of bombing of a city, resulting in many unspecified deaths; bombing causes a cave-in, resulting in death (general description); a boy is mentioned to be injured severly and bleeding as a result of bullying by other students; an individual is tortured by young students being required to throw buckets of ice water on them in the winter, resulting in death; a mother is mentioned to have died in childbirth; adult male corners young female in a frightening scene; brief scene of rape, with minimal description; a character is shot and dies, no description; reports of death of characters; character dies by land mine, no description.
Sex/Nudity: Sex is referred to once with no detail; prostitutes and whores are mentioned with no detail; soldiers make crude, sexual comments/references upon a few separate occassions; brief scene of rape, with minimal description.
Mature Subject Matter:
War, death, personal crises, atrocities of war (starvation, rape, etc.), prisoners of war/camps, desertion/treason, facism, bullying.
Alcohol / Drug Use:
Adults smoke frequently; adults are mentioned to drink.
Reviewed By Lydia