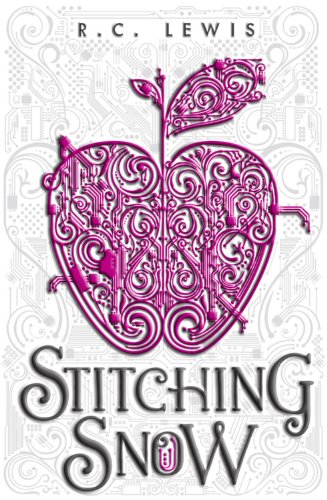 Publisher's Note:
Princess Snow is missing.

Her home planet is filled with violence and corruption at the hands of King Matthias and his wife as they attempt to punish her captors. The king will stop at nothing to get his beloved daughter back-but that's assuming she wants to return at all.

Essie has grown used to being cold. Temperatures on the planet Thanda are always sub-zero, and she fills her days with coding and repairs for the seven loyal drones that run the local mines.

When a mysterious young man named Dane crash-lands near her home, Essie agrees to help the pilot repair his ship. But soon she realizes that Dane's arrival was far from accidental, and she's pulled into the heart of a war she's risked everything to avoid.

In her enthralling debut, R.C. Lewis weaves the tale of a princess on the run from painful secrets . . . and a poisonous queen. With the galaxy's future-and her own-in jeopardy, Essie must choose who to trust in a fiery fight for survival.
This book was sent to Compass Book Ratings for review by Hyperion Books for Children (A Disney Imprint)
Stitching Snow
by R.C. Lewis
Overall Review:
It appears to be a requirement these days that all young adult heroines have ninja fighting skills, and the opening sentence of Stitching Snow lets the reader know that Essie, the protagonist, is definitely a fighter. However, this re-imagined and re-set fairy tale brings some welcome variations to the table. First, Essie has programming and robotics skills, which is incredibly refreshing. Also, with the characters moving among planets and cultures, this novel has a bit of a Star Wars flair--in a good way. Those elements will probably make this novel appealing to fans of the Lunar Chronicles by Marissa Meyer. The author has fun incarnating the familiar elements of the Snow White story in unexpected ways. While the writing isn't stylistically unique, it goes down easy and the plot is well thought out. Solid action and a male romantic interest that readers will want to clone make this one of the most enjoyable young adult reads this year. So much to like in this young adult sci-fi fantasy! (And Dimwit, you rock!)
Review was of an Advance Reader Copy
Content Analysis:
Profanity/Language: 2 derogatory names.
Violence/Gore: 2 brief scenes of cage fighting with punching, grabbing, slamming, etc. resulting in injuries; report of unconsciousness from a previous fight; character found with injuries after an accident, non-detailed; male attacks/grabs female with intent to harm, brief and non-detailed; character attempts to punch another and is restrained; character punches door and injures self; burns and cuts received in an accident; brief fight in a virtual setting; character is kidnapped; confrontation with punching, rendering characters unconscious and chasing; report of plan to kill another; report of a step-parent slapping a young child; extended scene in which characters fight, struggle, punch, hit, fire guns, etc. resulting in injuries and destruction of property; report of a death due to earlier violence; characters have sparring practice; attempted poisoning; scene of wounded in hospital with brief description of wounds; battle/firefight with explosions, destruction of property and implied deaths; verbal threat to kill; brief fight with resulting deaths by weapon, non-detailed; man (father) attempts to sexually force character, non-detailed/brief scene; character is killed by knife, mention of blood, non-detailed; extended action/fight scene with punching, knives, etc. resulting in unconsciousness, injuries, and at least one death, non-detailed; character purposefully burned by another, brief/non-detailed.
Sex/Nudity: Reference to "good-time girls"; character removes wet clothing, non-sexual; some instances of innuendo; characters briefly kiss upon a few occasions; characters embrace; characters hold hands; character touches another's face; innuendo that a father forced sexual attentions on a young daughter, actions never spelled out or stated, but implication is there; man (father) forcibly and physically pins character to bed with implied sexual intentions, never spelled out in words, but implication is there (brief scene, non-detailed).
Mature Subject Matter:
Sexual abuse (inferred/implied), kidnapping, murder, treason, war, death.
Alcohol / Drug Use:
Some scenes take place in a bar/tavern; reference to people drinking jack-ale (adults); character is drugged to render unconscious; attempted poisoning.
Reviewed By Cindy