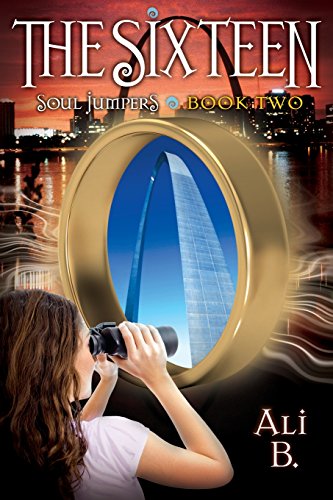 Publisher's Note:
There are people out there who don't die with their bodies. Their souls live on in the bodies of others. Some good, some bad—they are soul jumpers. Nothing in Iris Brave's world make sense anymore. Her father, Micah, is still alive—his soul survives in the body of a teenage boy. It is up to Iris and a group of soul jumpers called the Sixteen to save Micah. To do so Iris must take on the unscrupulous leaders of the Council. Can she save her father? Will she survive?
This book was sent to Compass Book Ratings for review by Cadence Group
The Sixteen
by Ali B.
Overall Review:
In The Sixteen, the next installment of The Soul Jumper Series by author Ali B, the story picks right up where it left off in the first book with Iris discovering more about what it means to be a soul jumper. The first book left off quite abruptly and while it is nice to pick up the storyline right away, it's necessary to have read the first book. The author provides no back story to get the reader up to speed.
Throughout The Sixteen we are introduced to several more soul jumpers as well as the Council that controls them. This almost secret society has a lot of interesting characters and the plot line moves along rather smoothly as well as intriguingly because of them. Iris's interaction with them allows the reader to learn more about her personally as well as see her growth as a character.
On top of falling more in the paranormal genre, The Sixteen is a captivating mystery that keeps one guessing who is the good guy and who is the bad up to the end of the book. The only problem again is that the narrative ends suddenly, leaving one to feel as if the author wrote the entire story first and then divided it into books.
Content Analysis:
Profanity/Language: 2 religious exclamations.
Violence/Gore: 1 attempted kidnapping; 1 actual kidnapping; a few second hand descriptions of how people died (4); character describes a shooting; one character threatens to shoot another; extended scene in which child character is fatally shot (murdered) by adult character while another character is shot and wounded, graphic description; character is forcibly injected with drugs (3 times) to render them unconscious.
Sex/Nudity: None
Mature Subject Matter:
Death, the paranormal/fantasy concept of soul jumping (which involves the soul of someone who died taking over the body of someone who might die), kidnapping, character denied food.
Alcohol / Drug Use:
Drug injected into character to render them unconscious.
Reviewed By Sally