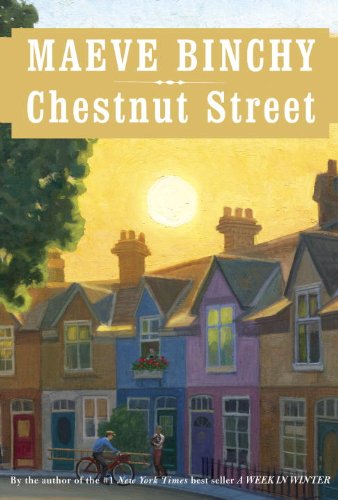 Publisher's Note:
Maeve Binchy imagined a street in Dublin with many characters coming and going, and every once in a while she would write about one of these people. She would then put it in a drawer; "for the future," she would say. The future is now.

Across town from St. Jarlath's Crescent, featured in Minding Frankie, is Chestnut Street, where neighbors come and go. Behind their closed doors we encounter very different people with different life circumstances, occupations, and sensibilities. Some of the unforgettable characters lovingly brought to life by Binchy are Bucket Maguire, the window cleaner, who must do more than he bargained for to protect his son; Nessa Byrne, whose aunt visits from America every summer and turns the house—and Nessa's world—upside down; Lilian, the generous girl with the big heart and a fiancé whom no one approves of; Melly, whose gossip about the neighbors helps Madame Magic, a self-styled fortune-teller, get everyone on the right track; Dolly, who discovers more about her perfect mother than she ever wanted to know; and Molly, who learns the cure for sleeplessness from her pen pal from Chicago . . .

Chestnut Street is written with the humor and understanding that are earmarks of Maeve Binchy's extraordinary work and, once again, she warms our hearts with her storytelling.
Chestnut Street
by Maeve Binchy
Overall Review:
Maeve Binchy sure knew how to tell a story well, or in the case of Chestnut Street, many stories. If you have read any of Ms. Binchy's other books, you might recognize some of the places mentioned in Chestnut Street. Even if you aren't familiar with Maeve's writing, you will feel right at home within a few chapters. I was probably thirteen or so when I first read a book by her, Minding Frankie, and even then her style appealed to me. Something about her personable characters and the sense of familiarity you get upon opening her books make them seem almost as real as a good friend.
Chestnut Street chronicles the stories of the inhabitants of, well, Chestnut Street. Each and every person that lives on this road has a story to tell, from the cab driver who worries a bit too much about the people he transports to the young boys causing shenanigans on the corner. I fell in love with each and every one of the well-crafted characters. Some readers may have a difficult time adapting to the way this book is written (multiple short stories), but I found it to be interesting, and it gave me the chance to get to know a whole neighborhood instead of just one family, or a few characters.
If you have wanted to pick up a Binchy title, but have put it off, now might be the time to give one a try. Though all of her books are fairly hefty, I don't think you will regret your choice. I have the feeling when I am reading Maeve's books that most of her characters are based on real-life people, so it's almost like you get to be a fly on the wall for a while, and you don't even have to feel guilty for snooping!
Content Analysis:
Profanity/Language: 3 religious exclamations; 6 mild obscenities; 4 derogatory names; 1 scatological word; 1 anatomical term.
Violence/Gore: A character is mentioned to have died from an unknown cause; a character threatens to drown someone's pet cats; two boys are cruel to a kitten in one brief descriptive scene.
Sex/Nudity: Adults kiss several times; a man is mentioned to have touched a woman's leg in what could be a sexual way; a couple is mentioned to "make love"; sex is referred to; sex is implied several times; a woman is mentioned to be pregnant out of wedlock; extramarital affairs are mentioned several times with no detail.
Mature Subject Matter:
Death, personal crises, divorce, extramarital affairs.
Alcohol / Drug Use:
Adults drink; adults smoke; recreational drug use is mentioned; a minor is mentioned to be dealing drugs illegally.
Reviewed By Lydia