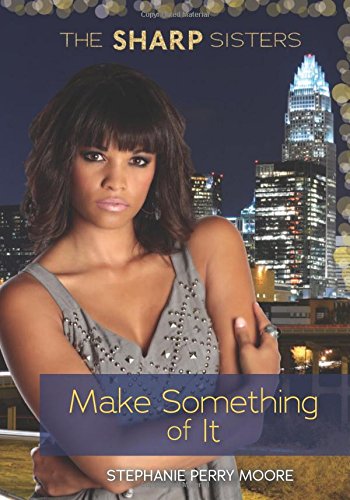 Publisher's Note:
The Sharp sisters are bold, bright, sassy, stylin', and fierce. As the daughters of mayoral candidate Stanley Sharp, all eyes are on them as they attend high school. Every choice they make can make or break their father's campaign—and make or break their own chances for success.



Shelby aims to be the next great fashion designer, but while working with her design mentor, she discovers some ugly secrets that fashion can't hide: domestic violence. She doesn't understand why the victims would allow the abuse. Can Shelby convince them to take a stand, or should she keep her mouth shut?
This book was sent to Compass Book Ratings for review by Lerner Publishing Group
The Sharp Sisters: Make Something of It
by Stephanie Perry Moore
Overall Review:
The Sharp Sisters-Make Something of It is the first of five books in a new series by Stephanie Perry Moore. Each book in the series focuses on one of the five high school-aged daughters of a mayoral candidate in Charlotte, North Carolina.
The first book follows Shelby to a new high school, and as she gets her foot in the door of the fashion industry, we see through her eyes the damaging effects of domestic abuse and violence. The backdrop of her normal, happy family offers a nice balance to the harsh reality that is domestic abuse and violence. As a reader, one comes away from the book questioning how prevalent this type of abuse really is. One also wonders how to follow Shelby's example in sticking up for those that need it. Just in time to answer the call for more diversity in literature, this series has the makings of a promising series about African American characters.
Content Analysis:
Profanity/Language: None
Violence/Gore: A few accounts of implied violence and threats to character; 3 accounts of fist fights; 2 second-hand accounts of domestic abuse; 1 account of destruction of property; 1 detailed scene of character attempting to sexually force/rape another; 1 account of domestic violence resulting in death as told on the TV news.
Sex/Nudity: A few accounts of flirting between boy/girl and a few between boy/boy; sexual reference to a girl's anatomy as "a rack"; one account of kissing between boy/girl; 2 accounts of boy character wanting a girl character in a sexual way; 2 accounts of boy touching girl in areas covered by bathing suit; one detailed scene of boy touching in a sexual way a girl while she says 'no' as he attempts to force himself sexually on her.
Mature Subject Matter:
Divorce, domestic abuse/violence, homosexuality, attempted rape.
Alcohol / Drug Use:
One character described as "high."
Reviewed By Sally