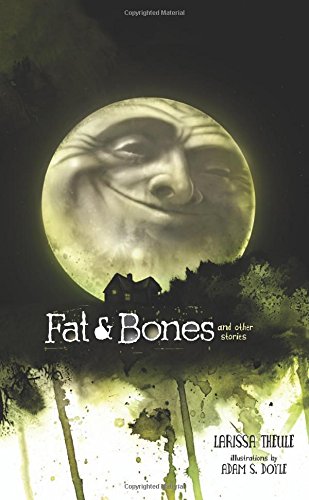 Publisher's Note:
Welcome to Bald's farm. Well, perhaps it's not Bald's farm anymore. The old man has kicked the bucket, setting off a wave of conflict from the flooded farmhouse kitchen to the muddy pig pen to the tall wheat fields. In this darkly funny, slightly supernatural chain of tales, no creature is safe. Not Leonard Grey, a spider with sophisticated tastes. Not Esmeralda, a resentful one-legged pig. Not Tulip, a plant with a mean streak. And as for Bones, the old man's son, and Fat, his winged rival? They'll learn that danger lurks in the strangest of places...
This book was sent to Compass Book Ratings for review by Carolrhoda Books
Fat and Bones and Other Stories
by Larissa Theule
Overall Review:
Fat and Bones and Other Stories is a compilation of seven short but interrelated stories. The connection is a series of chain of events at one small farm house. This book comes out just in time for Halloween, and will be perfect for that holiday. The stories are all a little weird, spooky, and downright odd, but in a comical kind of way. However, these are not light, happy-go-lucky stories, nor are they the kind that would scare you out of your wits. They are just a little creepy.
The book is cleverly written in the way it ties all of the events together, but each event is a stand-alone story. The storytelling is also unique in its voicing. The illustrations are the highlight of the book and add to the general sense of 'creepiness.' So if you are looking for something to read this Halloween season that will add an aura of strangeness and spookiness to your holiday, this book might be for you.
Content Analysis:
Profanity/Language: None
Violence Gore: A few accounts of violence between a human and a fairy; one character liquefied by a potion; a few accounts of violence to animals resulting in body parts being chopped off; collection and use of spider's blood in a potion; detailed description of a fight between flowers that results in the death of one; detailed description of cat eating mouse; several accounts of characters wishing violence on other characters.
Sex/Nudity: None
Mature Subject Matter:
Death of parent, violence to animals.
Alcohol / Drug Use:
Potions used to alter humans.
Reviewed By Sally