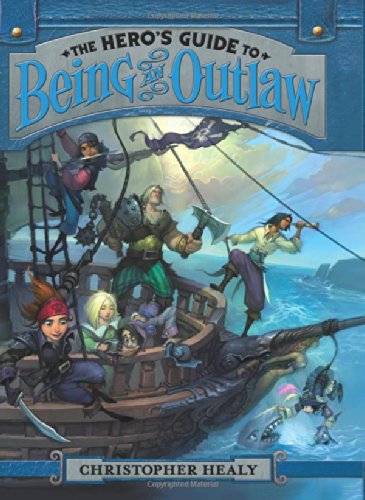 Publisher's Note:
The League of Princes returns in the hilariously epic conclusion to the hit series that began with Christopher Healy's The Hero's Guide to Saving Your Kingdom, which the Los Angeles Times called "one of the more clever, hilariously successful incarnations of the current literary rage to rip apart and rewrite fairy tales."Prince Liam. Prince Frederic. Prince Duncan. Prince Gustav. You think you know those guys pretty well by now, don't you? Well, think again. Posters plastered across the thirteen kingdoms are saying that Briar Rose has been murdered—and the four Princes Charming are the prime suspects. Now they're on the run in a desperate attempt to clear their names. Along the way, however, they discover that Briar's murder is just one part of a nefarious plot to take control of all thirteen kingdoms—a plot that will lead to the doorstep of an eerily familiar fortress for a final showdown with an eerily familiar enemy.
The Hero's Guide to Being an Outlaw
by Christopher Healy
Overall Review:
Over-the-top fun and brilliant! Christopher Healy's final installment in this series could not be better. Blistering plot pacing, uproarious humor (laugh-out-loud status), brisk banter, deft plot twists, and crackerjack characters, make The Hero's Guide to Being an Outlaw a delight. One wouldn't think it would be possible to top the first two books, but Mr. Healy did. Also greatly appreciated is a gratifying conclusion for all the characters.
The first book was charming and enjoyable; the second book was entertaining and slightly more satisfying than the first; the third book is so dynamite it elevates this series to a whole level above the standard middle grade fantasy fare. It might be early for predictions, but this series just received my vote to officially become a classic.
Content Analysis:
Profanity/Language: None
Violence/Gore: All accounts of violence are brief, non-descriptive, fairy-tale-ish, and told in a comical nature. Incidences include - general reports of brawls, fighting, kidnapping; a plot to kill characters; several chase scenes; several fight scenes (some extended) with swords, arrows, magical creatures, cannons, explosives, knocking of characters unconscious, throwing, bashing, punching, scuffling, biting, etc. with reports of injuries and deaths may be implied; non-detailed deaths do occur in these fight scenes, notably animal kills another animal, there is a non-detailed death by fall, a non-detailed death by large object crushing someone, non-detailed death by propulsion via weapon.
Sex/Nudity: Characters kiss, two separate occasions.
Mature Subject Matter:
Death

Alcohol / Drug Use:
None
Reviewed By Cindy