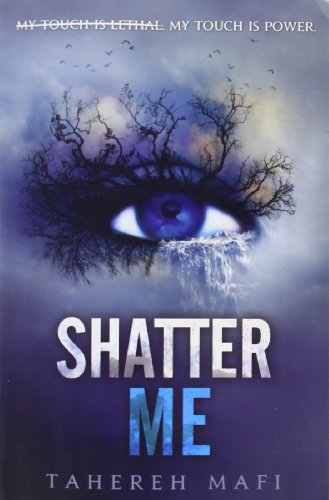 Publisher's Note:
I have a curse.
I have a gift.
I'm a monster.
I'm more than human.
My touch is lethal.
My touch is power.
I am their weapon.
I will fight back.
No one knows why Juliette's touch is fatal, but The Reestablishment has plans for her. Plans to use her as a weapon. But Juliette has plans of her own. After a lifetime without freedom, she's finally discovering a strength to fight back for the very first time—and to find a future with the one boy she thought she'd lost forever.
In this electrifying debut, Tahereh Mafi presents a riveting dystopian world, a thrilling superhero story, and an unforgettable heroine.
Shatter Me
by Tahereh Mafi
Overall Review:
Juliette has a dangerous power that she can't control and has been alienated her entire life because of it. When it seems all is lost, she's given a flicker of hope but it's difficult for her to discern whether or not the possibility of happiness is just a facade.
I have never read a book that involves the senses quite like Tahereh Mafi did in this one. It can be compared to a Sharon Shinn novel in that respect, but Mafi takes it even deeper than Shinn ever does. Her poetic language includes metaphors and personification that is captivating. Mafi's style of writing in general, at least in this book (I haven't read anything else by her), is quite unique and I enjoyed how the characters evolved throughout the story. This novel will appeal primarily to female young adult audiences, particularly those who enjoy a forbidden romance, but it might also be something some young adult male readers would appreciate due to the military involvement.
Content Analysis:
Profanity/Language: 26 religious exclamations; 39 mild obscenities; 3 religious profanities; 3 derogatory names; 25 scatological words; 11 anatomical terms.
Violence/Gore: Many (37) brief incidents including mention of the sound of breaking bones; character imagines starvation, death and houses getting destroyed; verbal threats; characters threatened with gun; character hopes to get killed; imagining blood all over; character is tempted to commit suicide; character wants to hurt another; character asks another why she didn't commit suicide; character insinuates having been hurt; second hand report of population dying; second hand report of accidental murder; mention that character was kicked and had rocks thrown at her; second hand report of child abuse; reference to getting punched; second hand report of getting beat up and shot; character remembers seeing dead people all around him; character gets hit; character accidentally hurts another (non-life threatening); character gets hit in the face with elbow; character kicked; characters attacked (no one hurt); characters getting shot and killed.
Sex/Nudity: Many (43) brief incidents including hands on back and around waist; arm around; holding hands; hugging; cuddling; touching face; non-sexual reference to character being naked under sheets in hospital; character thinks another is going to rape her (not the case); character joking about others having sex; character looking suggestively at another; characters making out with hands roaming (doesn't specify where); character tells another she's going to kiss his entire body; male character presses female character up against the wall suggestively. The make out scenes were a bit intense which is why the recommendation age is 16.
Mature Subject Matter:
Child abuse, war, murder, slavery mentioned, drunk character driving.
Alcohol / Drug Use:
Reference to adult character drinking and driving.
Reviewed By Jenny