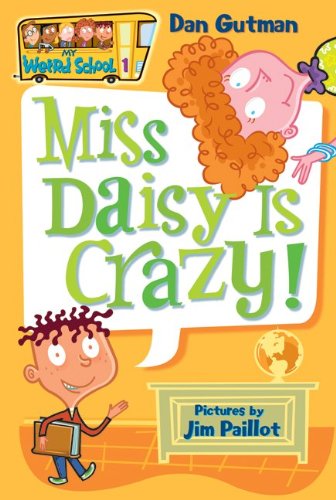 Publisher's Note:
Miss Daisy, who teaches second grade, doesn't know how to add or subtract. Not only that, she doesn't know how to read or write either. She is the dumbest teacher in the history of the world!
Miss Daisy is Crazy
by Dan Gutman
Overall Review:
This ended up being a super fun kids' book! The second grade kids have started school, but their teacher doesn't know how to read, write, spell, or do arithmetic! Not only that, there's a rumor there's a dungeon (principal says it's on the third floor)! So, plans are laid to buy the school and set it up as a video game arcade! The principal and teachers turn that desire into something fun and rewarding for everyone. My kids loved it and there were some great lessons taught (without them even knowing it--which are always my favorite kinds of lessons)! A great read-aloud book, or perfect for the second grader who also 'hates' school!
Content Analysis:
There was nothing overly questionable in this book. There was the mention of the behind (using the slang term) followed by a short discussion about it.
Mature Subject Matter:
***
Alcohol / Drug Use:
***
Reviewed By Emily