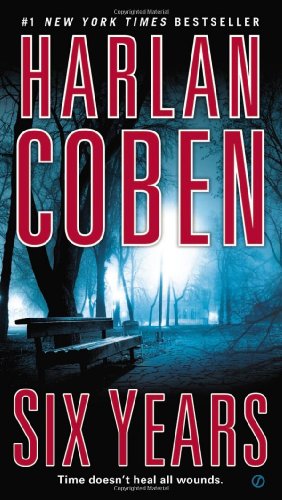 Publisher's Note:
A masterpiece of modern suspense from #1 New York Times bestselling author Harlan Coben.



Six years have passed since Jake Fisher watched Natalie, the love of his life, marry another man. Six years of keeping his promise to leave Natalie alone, and six years of tortured dreams of her life with her new husband, Todd. So when Jake comes across Todd's obituary, he can't keep himself away from the funeral. There he gets the glimpse of Todd's wife he's hoping for....



But she is not Natalie.



Soon Jake's search for the woman who broke his heart puts his very life at risk, as he uncovers the secrets and lies that love can hide...
Six Years
by Harlan Coben
Overall Review:
Jake has found the girl whom he considers to be his one true love but shortly after their relationship abruptly ends he finds himself at her wedding to another man. After the wedding she approaches him and asks him to leave her and her new husband alone, but circumstances drastically change six years after Jake has made that promise and the riddles begin.
This book reminded me a lot of an Andrew Klavan novel with its suspense, action, and witty main character. Coben's writing is so engrossing that when people are questioning the legitimacy of Jake's experiences, you start to question them as well. Appealing to both male and female audiences looking for an entertaining and (mostly) unpredictable mystery, Six Years is an excellent read.
Content Analysis:
Profanity/Language: 6 religious exclamations; 39 mild obscenities; 5 derogatory names; 2 scatalogical words; 6 anatomical terms.
Violence/Gore: Many (27) brief incidents including reference to someone being "punch worthy"; character jokes about shooting up stores; a boxer used in an analogy; verbal threats; characters threatened with gun; mention that character's father died; second hand report of character getting tortured and killed; character injured and another killed in a car accident; mention of thefts and violent threats; second hand report of character committing suicide; references to murders and assault; newspapers reports fire, shooting and murders; characters get punched; character kicked; metaphor of zombies and flesh eaters; character fights someone and causes significant injuries; character shot at and hit with bat; character attacked and killed someone (self defense). One extended incident of a fight resulting in death.
Sex/Nudity: Many (32) brief incidents including flirting; hugging & holding hands; innuendo; character half naked; several references to characters having sex; reference to sexual assaults; accusations to adult male character raping little boys (not true); reference to breast implants; characters play (non-sexual) game with condoms; references to male anatomy; reference to homosexuality; mention of skinny dipping; newspaper reports rape; pedophiles mentioned; character jokes about phone sex; character jokes about someone viewing pornography.
Mature Subject Matter:
Rape, pornography and pedophiles mentioned, sexual references, murder.
Alcohol / Drug Use:
Characters go to bars several times and drink alcohol; characters drink alcohol at home; a few references to underage drinking; second hand report of alcohol poisoning; newspaper mentions heroine ring; characters smoke cigarettes; insinuation of characters growing marijuana.
Reviewed By Jenny