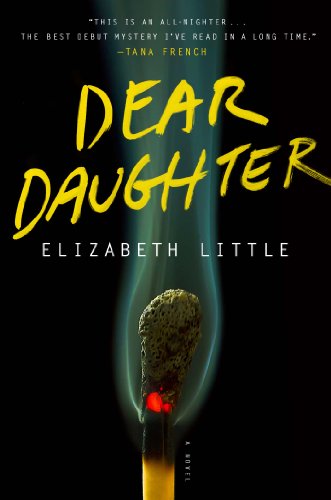 Publisher's Note:
A sensational debut thriller featuring an unforgettable heroine who just might have murdered her mother

Former "It Girl" Janie Jenkins is sly, stunning, and fresh out of prison. Ten years ago, at the height of her fame, she was incarcerated for the murder of her mother, a high-society beauty known for her good works and rich husbands. Now, released on a technicality, Janie makes herself over and goes undercover, determined to chase down the one lead she has on her mother's killer. The only problem? Janie doesn't know if she's the killer she's looking for.

Janie makes her way to an isolated South Dakota town whose mysteries rival her own. Enlisting the help of some new friends (and the town's wary police chief), Janie follows a series of clues—an old photograph, an abandoned house, a forgotten diary—and begins to piece together her mother's seemingly improbable connection to the town. When new evidence from Janie's own past surfaces, she's forced to consider the possibility that she and her mother were more alike than either of them would ever have imagined.

As she digs tantalizingly deeper, and as suspicious locals begin to see through her increasingly fragile facade, Janie discovers that even the sleepiest towns hide sinister secrets—and will stop at nothing to guard them. On the run from the press, the police, and maybe even a murderer, Janie must choose between the anonymity she craves and the truth she so desperately needs.

A gripping, electrifying debut novel with an ingenious and like-it-or-not sexy protagonist, Dear Daughter follows every twist and turn as Janie unravels the mystery of what happened the night her mother died—whatever the cost.
Dear Daughter: A Novel
by Elizabeth Little
Overall Review:
Imagine living in the lap of luxury, having every little thing you wanted, summering in you "summer" home...and yet having a mother who is absent and has never really been there for you. Now imagine said mother dying, but not in a natural way but in a way that has a whirl of mystery and horror surrounding it. What would you do in this situation?--Especially if you were found to be the guilty party? Though in my experience it seems like most celebrities somehow get off the hook when they commit a crime (whether they are buying their way out, or our system is corrupt, I don't know), Dear Daughter takes a more realistic path, and Janie Jenkins, who has never wanted for anything in her life, finds herself stuck in prison for a crime we aren't sure if she committed.
Dear Daughter reminded me of Cartwheel by Jennifer duBois and the Amanda Knox story, so if you have any interest in murderers and serial killers that may or may not be guilty, this fiction book might just fit your fancy. For a debut book, Elizabeth Little has done an amazing job of putting together a stunner of a mystery. Other than language that seemed unneeded, I have no other complaints about this book. And the cover sure does catch the eye!
Content Analysis:
Profanity/Language: 11 religious exclamations; 13 mild obscenities; 6 derogatory names; 8 scatological words; 10 anatomical terms; 1 offensive hand gesture; 20 F-Word derivatives.
Violence/Gore: A murder occurs, some blood is described; a car is stolen; a character is charged with murder; a mother mentions an abortion, with no detail.
Sex/Nudity: Adults kiss several times; adults mentioned to be "getting laid"; a student and teacher are mentioned to be in a "compromising position"; one non-detailed mention of sex involving nudity; porn use is mentioned with no detail.
Mature Subject Matter:
Death of a parent, murder, theft, personal crisis.
Alcohol / Drug Use:
Adults drink; adults smoke; overdosing on drugs is mentioned; marijuana use is mentioned; prescription drug use is mentioned.
Reviewed By Lydia