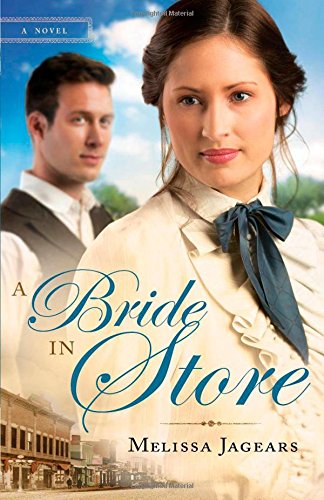 Publisher's Note:
Impatient to meet her intended groom and help him grow his general store, mail-order bride Eliza Cantrell sets out on her travels a week early. But her plan goes sadly awry when her train is held up by robbers who steal her dowry and Axel, her groom-to-be, isn't even in town when she finally arrives.

Axel's business partner, William Stanton, has no head for business and would much rather be a doctor. When his friend's mail-order bride arrives in town with no money and no groom in sight, he feels responsible and lets her help around the store--where she quickly proves she's much more adept at business than he ever will be.

The sparks that fly between Will and Eliza as they work together in close quarters are hard to ignore, but Eliza is meant for Axel and a future with the store, while Will is biding his time until he can afford medical school. However, their troubles are far from over when Axel finally returns, and soon both Will and Eliza must decide what they're willing to sacrifice to chase their dreams--or if God has a new dream in store for them both.
This book was sent to Compass Book Ratings for review by Bethany House Publishers
A Bride in Store
by Melissa Jagears
Overall Review:
The subject of mail-order brides is always intriguing and author Melissa Jagears has selected this topic for her Unexpected Bride series. A Bride in Store is the second full length book in the series. Although reading the previous books could prove interesting, this novel stands alone.
The pacing of this book is really well done. Often in novels with romantic tension building, the author feels the need to build the tension with repetitive romantic encounters. In this story, the tension is built while the author is exploring interesting plot twists and the plot twists are not centered exclusively around the romance.
A wide variety of characters dance across the pages. Some are delightful and others distasteful. The characters experience much more than just romance. There are all kinds of heartaches and challenges to keep readers interested. If readers have not already picked up the previous offerings in the series, they will be left eager to read more by Melissa Jagears.
Content Analysis:
Profanity/Language: None
Violence/Gore: People threaten characters with guns; characters hit with objects and blood is mentioned; characters throw objects at another; report of a character shot by another; a few medical procedures described in brief, non-graphic terms, but blood is described.
Sex/Nudity: Non-married characters touch one another's hair, kiss, embrace, and imagine doing those same actions; a mention that a woman's child is not her husband's and that's why she was in such a hurry to marry the man.
Mature Subject Matter:
Death of spouses/children/friends.
Alcohol / Drug Use:
Adult characters mention being drunk and drinking too much; a punch bowl at a party is supposed to contain alcohol.
Reviewed By Susan