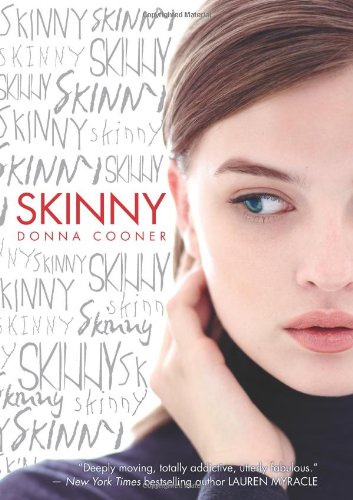 Publisher's Note:
Find your voice.

Hopeless. Freak. Elephant. Pitiful. These are the words of Skinny, the vicious voice that lives inside fifteen-year-old Ever Davies's head. Skinny tells Ever all the dark thoughts her classmates have about her. Ever knows she weighs over three hundred pounds, knows she'll probably never be loved, and Skinny makes sure she never forgets it.

But there is another voice: Ever's singing voice, which is beautiful but has been silenced by Skinny. Partly in the hopes of trying out for the school musical - and partly to try and save her own life - Ever decides to undergo a risky surgery that may help her lose weight and start over.

With the support of her best friend, Ever begins the uphill battle toward change. But demons, she finds, are not so easy to shake, not even as she sheds pounds. Because Skinny is still around. And Ever will have to confront that voice before she can truly find her own.

Donna Cooner brings warmth, wit, and startling insight to this unforgettable debut.
Skinny
by Donna Cooner
Overall Review:
For the majority of my life, I have struggled with my weight. This struggle is self-inflicted though. It is a voice that is with me at all times, a little whisper lurking just behind the darkest corners of my mind. I am unsatisfied with my weight, but I don't have to be. If I could find the key to unlock the chains my little voice has put on me, I would. But enough about me. Let's talk about Skinny.
Ever Davies also struggles with self-image and weight, but in a different way. She is huge. And she knows it. The knowledge of this doesn't always mean that action can or will be taken though. We can know we have a problem, and not act on it. Whether because it is too hard, we are too scared, or we are simply lazy--this can happen with pretty much anything. Sometimes it has negative effects, and sometimes the effects aren't so prevalent. Ever takes that leap of faith though, and makes a really big change, even though she is terrified, and when she does make a change, she starts to feel really different, in both good and bad ways.
This book took an intimate look at how easy it can be for young women to be persuaded, both in positive and negative ways. The story, although it is fiction, could be a biography of so many teen girls. I know I was able to relate to this story, even though I am now an adult. Every girl should read this book--and maybe even every boy. Body image can, unfortunately, be somewhat of a hush-hush topic in certain circles. Raising awareness about it can only help us understand those around us better.
Content Analysis:
Profanity/Language: 3 religious exclamations; 1 mild obscenity.
Violence/Gore: None
Sex/Nudity: Minors kiss.
Mature Subject Matter:
Personal crises, bullying, negative self-talk, body image issues.
Alcohol / Drug Use:
None
Reviewed By Lydia