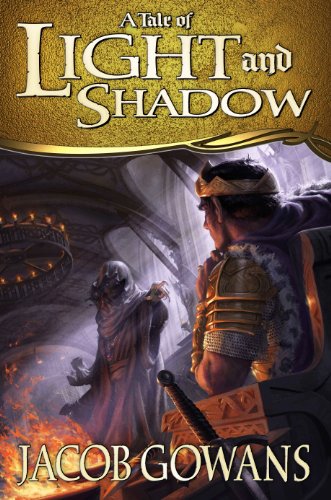 Publisher's Note:
Enter Atolas, a world where swords and daggers both extend life and end it; where magic is feared by all but a few; where feuds and friendships influence kingdoms and courtships. Henry and Isabelle have secretly sworn to marry despite his lowly station. Though Henry is but a carpenter, his devotion drives him to commit an unthinkable act that may cost both of them their lives. Unknown to either, a dark prophecy has set in motion events which will affect not only them, but the thrones of rulers throughout all of Atolas by eclipsing the world in shadow. But all is not lost while hope remains in the guise of an unlikely hero and the strength of friendship.
This book was sent to Compass Book Ratings for review by Shadow Mountain
A Tale of Light and Shadow
by Jacob Gowans
Overall Review:
Henry and Isabelle have known each other their entire lives and for much of it have loved each other. Their "happily ever after" is close enough to touch, but it quickly slips away thanks to someone who should only have their best interest in mind. That's not to say that they'll sit idly by and let it disappear without a fight.
Jacob Gowans sets up a great series with A Tale of Light and Shadow. This compelling story includes action and adventure, devotion and betrayal. I quite enjoyed the the character development because Gowans made them feel authentic, especially Henry and Isabelle who are brave, but also who make wrong decisions from time to time, making them feel relatable. The six characters who are in the majority of the story have diverse relationships and their interactions among themselves are quite entertaining.
Even though the tale falls in the fantasy genre, this first book barely drops hints of magic. I do, however, anticipate that the following books will include more, and the author was just setting things up in this first installment. This novel should appeal to a large audience rather than just those who are serious fantasy fans. Based on the plot, A Tale of Light and Shadow is a good read for the higher range of young adult, as well as adult readers. I'm anxious to continue reading about the world of Atolas in this intriguing story.
Content Analysis:
Profanity/Language: 1 mild obscenity; 2 derogatory names; 1 anatomical term.
Violence/Gore: Many (5) brief incidents including character joking about committing suicide; character pretends to slit throat; actors fight and fake death in play; characters dream and imagine getting injured and killed; character jokes about preferred method of death; verbal threats; characters consider hurting someone; second hand report of children fighting; characters mention getting physically punished by adults when they were children; character remembers witnessing execution; fighting resulting in little to no injuries; character poisoned; attacks resulting in severe injuries and death; fantasy character burns own flesh; stories of ghosts; a few brief incidents of death and murder. Two extended incidents of fighting resulting in death.
Sex/Nudity: Many (32) brief incidents including hugging; kissing; holding hands; cuddling; character naked after shower; character jokes about possibly appearing naked in public; innuendo; characters paid to be concubines; male character complains of prejudice due to lack of female body parts; character looked upon with "greedy eyes"; characters sing song about nude woman; actor's pants fall down during play; attempted rape with very little detail.
Mature Subject Matter:
Gambling and cheating, attempted rape, concubines, death, murder.
Alcohol / Drug Use:
Characters drink at pub several times; character often drinks from flask; character smokes pipe.
Reviewed By Jenny