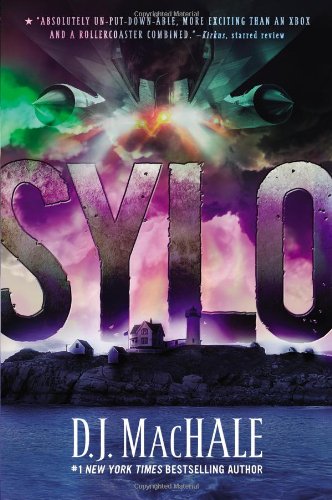 Publisher's Note:
The ultimate action-fueled end-of-the-world conspiracy trilogy from #1 New York Times bestselling author D.J. MacHale

THEY CAME FROM THE SKY
parachuting out of military helicopters to invade Tucker Pierce's idyllic hometown on Pemberwick Island, Maine.

They call themselves SYLO and they are a secret branch of the U.S. Navy. SYLO's commander, Captain Granger, informs Pemberwick residents that the island has been hit by a lethal virus and must be quarantined. Now Pemberwick is cut off from the outside world.

Tucker believes there's more to SYLO's story. He was on the sidelines when the high school running back dropped dead with no warning. He saw the bizarre midnight explosion over the ocean, and the mysterious singing aircraft that travel like shadows through the night sky. He tasted the Ruby—and experienced the powers it gave him—for himself.

What all this means, SYLO isn't saying. Only Tucker holds the clues that can solve this deadly mystery.

LOOK TO THE SKY
because Pemberwick is only the first stop.
SYLO
by D.J. MacHale
Overall Review:
SYLO by D.J. MacHale is an adrenaline-filled-conspiracy-action-thriller young adult novel. So be prepared when you open the book to be consumed. It reads as a movie made into a book. Protagonist Tucker Pierce, a high school freshman, ends up in the middle of something big and everything seems to be seeped in lies. Along the way Tucker makes some unlikely allies and a couple of the characters end up surprising you. This book has guy-read stamped all-over it and it made a certain fourteen-year-old in our household positively dysfunctional until he finished reading it.
Mr. MacHale sets up a lot of questions, and answers few off them, thus ensuring that the reading of book two in the series, Storm, is compulsory. Be sure to fasten your seat belt when you crack the cover.
Content Analysis:
Profanity/Language: 16 religious exclamations; 44 mild obscenities; 6 scatological words; 8 anatomical terms.
Violence/Gore: Character(s) dies for no apparent reason, non-detailed scenes; use of tear gas on a crowd; character tasered; character threatened by character with a bat; report of the death of animals; missile destroys property and results in a human death, non-detailed; character shot at close range and killed, non-detailed; characters are shot at; character is tasered; a dogfight is observed an many deaths are implied; death of a character and property by vaporization; report of death; character punches others on a few occasions; characters are roughed up a bit--shoved, hit, tied-up; extended scene where machine guns are fired at people with deaths resulting, non-detailed; character shot and killed; characters encounter destroyed property; characters come upon a body, non-detailed; extended chase scene involving shooting, explosions, injury, death, non-detailed.
Sex/Nudity: Characters flirt; references to characters being "hot", bikinis; characters kiss; passing statement that a character felt comfortable talking to parents about sex.
Mature Subject Matter:
Death, death of a family member, conspiracy.
Alcohol / Drug Use:
Adults drink; a chemical/drug is taken that is of mysterious origins and experimental.
Reviewed By Cindy