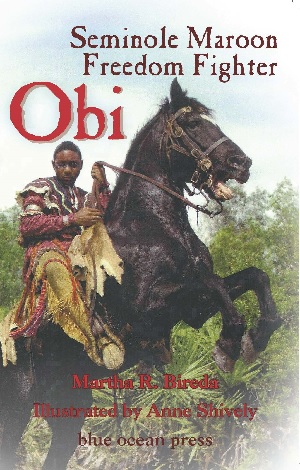 Publisher's Note:
Obi: Seminole Maroon is a fictionalized account of the daring escape of a 15 year old enslaved young man and his friends from a cotton plantation in South Carolina who find refuge among the Seminoles of Florida. The story follows Obi's meeting with the mysterious Quashee, his transformation from slave to freedom seeker and his escape to Florida. Through the "learnings" provided by Quashee, Obi develops the traits essential for his becoming a Maroon leader, establishing a Maroon village, his fighting in the Gullah Wars of Independence, going to Indian Territory out West, and his subsequent escape to Mexico. Obi: Seminole Maroon Freedom Fighter has been reviewed and recommended by a team of educators. One member of the team, a middle school principal has suggested that "The story of Obi is an action adventure that middle school students will love". Martha R. Bireda, Ph.D., is the Founder and Executive Director of the Blanchard House Museum of African American History and Culture of Charlotte County (FL). She is Director of the Museum's Maroon Study Center, and the New Image Project, a project dedicated to positive identity development of youth of color. Dr. Bireda is the author of six books including The Trabue Woods Book of Values, a book for youth designed to teach lessons in values and character. She has previously designed youth curricula including Developing into Womanhood: Tasks and Skills, a curriculum for the Florida Department of Juvenile Justice Female Initiative Program, administered by the African American Leadership Council; and the Trust for the Development of African American Youth Curriculum and Training Manual for the Greater Tampa Urban League, Tampa, Florida.
This book was sent to Compass Book Ratings for review by Blue Ocean Press
Obi: Seminole Maroon Freedom Fighter
by Martha R. Bireda
Overall Review:
Obi, the former slave called Jack, tells his account of how he and his friends escaped slavery on a South Carolina plantation to end up in Florida with the Seminole Indians. The book, Obi: Seminole Maroon Freedom Fighter is a short story that introduces one to the author's ancestor, but seems to be well researched and told in a way to make the story interesting and appealing to a younger generation.
Many have probably heard about the Underground Railroad and the ability of slaves to escape North, but this book takes on a different journey to Florida, where slaves had help from Native Americans as well. The story-telling was done in such a way that children will feel like they are there with Obi and his friends, and also in such a way that conversations about slavery and how slaves longed for freedom are sure to result. This book would be a great supplement to any history course of that time period. The fact that it is also a quick read, with only 73 pages (there are several pages of appendix and glossary), would make it an easy book to include in any course or home study.
Content Analysis:
Profanity/Language: None
Violence/Gore: A few second hand brief mentions of abuse to slaves including whippings, dismemberment and beatings; one account of burning of village.
Sex/Nudity: None
Mature Subject Matter:
Slavery, physical abuse.
Alcohol / Drug Use:
Two accounts of herbal mixtures used to ward off fatigue.
Reviewed By Sally