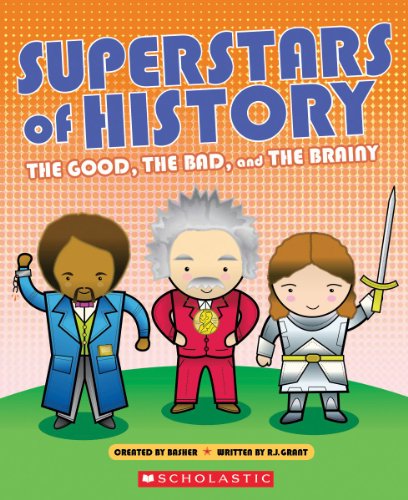 Publisher's Note:
Discover fun facts about the greatest figures from history through Basher's fresh and unique illustration style.
History doesn't just happen; it was created by a crazy crew of characters from way back when. Find out why Archimedes said "Eureka!" in the bathtub, how Thomas Edison changed the world, and whether or not Einstein's brain was bigger than an ordinary guy's. Discover what Abraham Lincoln, Gandhi, and Nelson Mandela did that made them famous for being so good, and what Attila the Hun, Hitler, and Stalin did that made them infamous for being so bad. Learn about great leaders like Charlemagne and George Washington and bold ones like Caesar and William the Conqueror. Superstars of History will feature fun text, loads of facts, and Basher's cool illustrations to bring history's greatest characters to life for 8 to12 year olds.
This book was sent to Compass Book Ratings for review by Scholastic
Superstars of History: The Good, the Bad, and the Brainy
by R. J. Grant
Overall Review:
Superstars of History: The Good, The Bad and The Brainy is a book that introduces 40 historical figures with one page "Status" updates. This book is a great introduction to some of the more famous movers and shakers of history, most good, but some not so good or down-right bad. This book would be perfect to pique an interest in children that might be adverse to history because they find it boring. The book seems to aim at making history as interesting and concise as possible.
The one page entry includes a little introduction, written in a first person voice, of what they did and why they are famous. These introductions are written in a way to make it interesting and utilize modern language. Then there is a "Legacy" box, a timeline, "Friend or Foe" box, and some other boxes that contain some interesting tidbits about that person or time in history. All is very brief and to the point, but would be a great springboard into an in-depth study of a particular person. The illustrations, done in a modern, bobble-head-looking sort of way, are also sure to appeal to the younger readers.
Content Analysis:
Profanity/Language: 1 mild obscenity.
Violence/Gore: Several mentions of historical events like assassination, beheading, war, burning at the stake, non-detailed.
Sex/Nudity: None

Mature Subject Matter:
War, suicide, multiple wives, political intrigue/assassination, slavery, suicide, the Holocaust.
Alcohol / Drug Use:
None
Reviewed By Sally