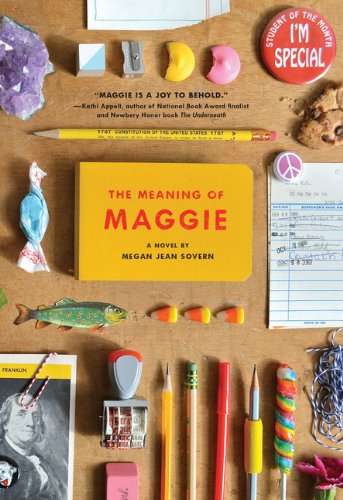 Publisher's Note:
As befits a future President of the United States of America, Maggie Mayfield has decided to write a memoir of the past year of her life. And what a banner year it's been! During this period she's Student of the Month on a regular basis, an official shareholder of Coca-Cola stock, and defending Science Fair champion. Most importantly, though, this is the year Maggie has to pull up her bootstraps (the family motto) and finally learn why her cool-dude dad is in a wheelchair, no matter how scary that is. Author Megan Jean Sovern, herself the daughter of a dad with multiple sclerosis, writes with the funny grace and assured prose of a new literary star. A portion of the proceeds of the sale of this book will be donated to the National Multiple Sclerosis Society.
The Meaning of Maggie
by Megan Jean Sovern
Overall Review:
I just love Maggie! She is smart, honest, hilarious, loquacious, naive, and definitely appreciates the value of a sweet snack. (I would definitely vote for her for president.) Her relationship with her sisters is hysterical and her relationship with her parents is positive. Set in the 1980's, this novel is told in first person, memoir style, and the voice is spot on. It is a quick read that clips right along.
Chronicling the transitional year between the ages of eleven and twelve, The Meaning of Maggie deals with meaningful subjects in an affirming and supportive family setting. It ends without playing the cliche card; it keeps it real. Plus, it has footnotes and I am a sucker for footnotes. A masterful debut novel and a welcome addition to middle grade literature.
Content Analysis:
Profanity/Language: 10 religious exclamations; 1 anatomical term.
Violence/Gore: Character falls with minor injuries.
Sex/Nudity: Reference to sister's bra size/bras; very brief, humorous mention of time dad tried to talk to daughter about "birds and bees"; reference to French kissing/make-out session; reference to "s-e-x"; character enters room and sees girl and boyfriend embracing/spooning on couch; characters kiss; reference to nudes in art museum and naked people in National Geographic (non-sexual).
Mature Subject Matter:
Chronic illness/disease, economic hardship, family crisis.
Alcohol / Drug Use:
Adults drink and smoke; veiled reference to marijuana; joke about medical marijuana; character (minor-aged) reports adult allowing her to have a sip of champagne on New Year's Eve.
Reviewed By Cindy