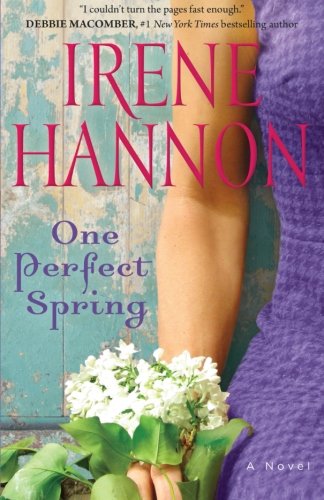 Publisher's Note:
Claire Summers is a determined, independent single mother who is doing her best to make lemonade out of the lemons life has handed her. Keith Watson is a results-oriented workaholic with no time for a social life. As the executive assistant to a local philanthropic businessman, he's used to fielding requests for donations. But when a letter from Claire's eleven-year-old daughter reaches his desk, everything changes. The girl isn't asking for money, but for help finding the long-lost son of an elderly neighbor.

As Keith digs reluctantly into this complicated assignment, he has no idea how intertwined his life and Claire's will become--nor how one little girl's kindhearted request will touch so many lives and reap so many blessings.

Through compelling characters and surprising plot twists, Irene Hannon offers readers this tenderhearted story of family connections that demonstrates how life is like lilacs--the biggest blooms often come only after the harshest winters.
This book was sent to Compass Book Ratings for review by Revell
One Perfect Spring
by Irene Hannon
Overall Review:
Irene Hannon has written many books, including action and romance stories. One Perfect Spring is her latest in the romance genre. It flows easily and had interesting characters. Let it be clear that this is a romance. Yes, the characters have lives with stories to tell, but the main purpose here is to enjoy a happily-ever-after type romance. Although the protagonists face some tough situations, this is a happy book about love and triumphing over tragedy.
Those readers seeking an opportunity for greater introspection will also find this a worthwhile experience. There are many opportunities to contemplate relationships with others and the effects of making uniformed judgments about people. Book groups or clubs will certainly find a lot to discuss on that subject.
This is the sort of story one could read while sitting on a lounge chair at the beach or rocking on a porch swing. Those looking for a quick read and a satisfactory ending will not be disappointed. Grab some lemonade, a straw hat, a spot in the shade and Irene Hannon's One Perfect Spring.
Content Analysis:
Profanity/Language: None
Violence/Gore: Person bleeds from a cut; report of a character jumping off a bridge; reference to an adult intentionally burning a child; reference to an adult abusing a spouse.
Sex/Nudity: Person references a one night stand; illegitimate children, pornography, prostitution and adultery are mentioned; a person refers to someone as sexy; a married couple is in bed and sex is implied.
Mature Subject Matter:
Divorce, death of spouse and parent, adoption, adultery, suicide, child abuse and spousal abuse.
Alcohol / Drug Use:
Adult characters reported to drink too much or be drunk, report of a character being addicted to heroin and overdosing on drugs.
Reviewed By Susan