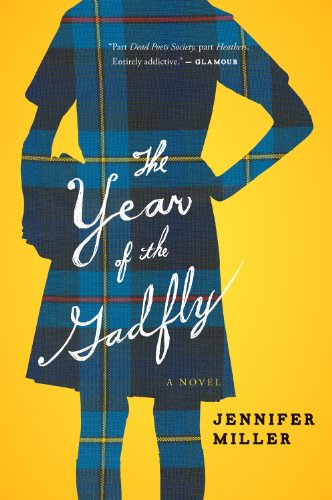 Publisher's Note:
"Do you know what it took for Socrates' enemies to make him stop pursuing the truth?"
"Hemlock."

Storied, fiercely competitive Mariana Academy was founded with a serious honor code; its reputation has been unsullied for decades. Now a long-dormant secret society, Prisom's Party, threatens its placid halls with vigilante justice, exposing students and teachers alike for even the most minor infraction.

Iris Dupont, a budding journalist whose only confidant is the chain-smoking specter of Edward R. Murrow, feels sure she can break into the ranks of The Devil's Advocate, the Party's underground newspaper, and there uncover the source of its blackmail schemes and vilifying rumors. Some involve the school's new science teacher, who also seems to be investigating the Party. Others point to an albino student who left school abruptly ten years before, never to return. And everything connects to a rare book called Marvelous Species. But the truth comes with its own dangers, and Iris is torn between her allegiances, her reporter's instinct, and her own troubled past.

The Year of the Gadfly is an exhilarating journey of double-crosses, deeply buried secrets, and the lifelong reverberations of losing someone you love. Following in the tradition of classic school novels such as A Separate Peace, Prep, and The Secret History, it reminds us how these years haunt our lives forever.
The Year of the Gadfly
by Jennifer Miller
Overall Review:
This book is an interesting read told from the point of view of three of the main characters--two in "present day" and one in the past. The way the author chose to tell the story from different viewpoints helped fill in gaps and tell some of the back-story. In The Year of The Gadfly, one of the main characters is attending a private school. (For some reason, I really enjoy books about boarding schools and summer camps. When I was young I always wanted to go away to a summer camp, and though I was homeschooled, a boarding school sounded quite appealing at times.) So right away, I was attracted to this book. Once I started reading and saw similarities to other books I have read and that have since become my favorites, I knew this book had been worth the wait.
Though the students at this private boarding school are young adolescents, they have a surprisingly mature side to them. I won't give anything away, but let's just leave it at this: if you like dark psychological fiction or thrillers, you will want to give this book a try. Don't let the cover trick you. What lies inside this book is a compelling story with lots of twists and turns. If you enjoy this book, I would also recommend Bittersweet by Miranda Beverly-Whittmore and Dare Me by Megan Abbott.
Content Analysis:
Profanity/Language: 10 religious exclamations; 2 mild obscenities; 1 derogatory name; 15 scatological words; 1 anatomical term; 6 F-Word derivatives.
Violence/Gore: A character's friend is mentioned to have died with no detail; a character is mentioned to have hanged them self, perhaps as a result of harassment/bullying; vandalism is mentioned several times as a result of a dare; some brief verbal abuse.
Sex/Nudity: Minors are mentioned to kiss several times; a porn site is mentioned with no detail; a girl is mentioned to have been drugged at a party and sexually violated with no detail; a bedroom scene that is not explicit but does involve two minors is mentioned, sex is implied; sex is implied several times; clinical nudity is mentioned in one brief scene; nudity with brief sexual innuendo is mentioned once; sex is referred to several times.
Mature Subject Matter:
Death, social conflicts, underage drinking, ethics, illegal activites, sexual awakening.
Alcohol / Drug Use:
Minors drink; minors smoke.
Reviewed By Lydia