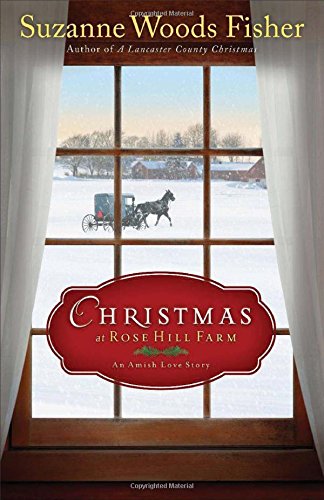 Publisher's Note:
Bess Riehl is preparing Rose Hill Farm for her Christmas wedding, but her groom isn't who she thought it would be. Billy Lapp is far away from his Amish roots working as a rose rustler for Penn State and wants nothing to do with Stoney Ridge, his family, or Bess. And that suits Bess just fine. Why should she think twice about a man who left without a word, without any explanation? It's time she moved on with her life, and that meant saying yes to Amos Lapp, Billy's cousin and best friend. But as Bess and Amos's wedding day draws near, her emotions tangle into a tight knot. She loves Amos. Yet she can't forget Billy.

When a "lost" rose is discovered at Rose Hill Farm, Billy is sent to track down its origins. Get in, identify the rose, and get out. That's his plan. The only catch is that he's having a hard time narrowing down the identity of the lost rose, and he can't get those tropical blue eyes of Bess Riehl out of his mind.

As the history of the lost rose is pieced together, it reminds Bess and Billy--and Amos, too--that Christmas truly is the season of miracles.

Join bestselling, award-winning author Suzanne Woods Fisher for an Amish Christmas to remember. Filled with heart-twisting moments amid the sweet anticipation of love, this story will charm readers into the holiday spirit.
This book was sent to Compass Book Ratings for review by Revell
Christmas at Rose Hill Farm
by Suzanne Woods Fisher
Overall Review:
Christmas at Rose Hill Farm by Suzanne Woods Fisher uses characters from two other series written by the author. There is no problem following the story without having read the other books. In fact, it seems this book is really designed to provide a Christmas story drawing from the Lancaster County and Stoney Ridge Seasons series.
One feature of particular note is Fisher's ability to place her characters in an Amish community without overstating the Amish culture. Rather, she writes the story from the perspective of people who are used to the ways of the Amish people. This really helps the flow of the story and helps readers connect to the characters. There was one character in this story that felt odd and out of place. It is hard to explain, but it seemed as though the story was written and then this character was added in as an afterthought.
This book moves at a fairly slow and steady pace, but is generally enjoyable. In looking at the books from the related series, it appears as though readers will have plenty of opportunity to enjoy getting to know other characters in this community. This is especially good for those left feeling as though there are more stories to be told and the book has ended without sharing them.
Content Analysis:
Profanity/Language: None
Violence/Gore: Report of a parent swatting and whipping a child; report of a character slitting his wrist; report of characters stabbing and hanging an animal; report of people tortured, beaten and buried alive.
Sex/Nudity: Non-married people kiss, hold hands and embrace; non-married character is reported to have gotten someone in the "family way"; people mention the word sex, but as a clinical term and not to discuss behavior of characters.
Mature Subject Matter:
Death of a parent, terminal illness, suicide.
Alcohol / Drug Use:
An adult asks another adult if he is using drugs such as LSD or heroin, but no usage actually occurs.
Reviewed By Susan