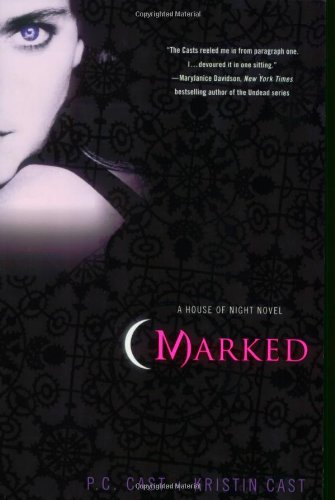 Publisher's Note:
The House of Night series is set in a world very much like our own, except in 16-year-old Zoey Redbird's world, vampyres have always existed. In this first book in the series, Zoey enters the House of Night, a school where, after having undergone the Change, she will train to become an adult vampire--that is, if she makes it through the Change. Not all of those who are chosen do. It's tough to begin a new life, away from her parents and friends, and on top of that, Zoey finds she is no average fledgling. She has been Marked as special by the vampyre Goddess, Nyx. But she is not the only fledgling at the House of Night with special powers. When she discovers that the leader of the Dark Daughters, the school's most elite club, is misusing her Goddess-given gifts, Zoey must look deep within herself for the courage to embrace her destiny--with a little help from her new vampyre friends.
Marked
by P.C. Cast
Overall Review:
In the current market, where there is enough vampire literature to warrant its own genre, Marked deserves to be praised. It's entirely readable, exciting, and gives readers a new, clever spin on vampire origins, lifestyle, and belief system. Particularly enjoyable and unique were the mythologies, including incorporation of Native American rituals and beliefs.
This is not amazing writing--characters seem to move through transitions a little too quickly to be believable (i.e., character makes friends loyal enough to risk their lives for her within two days, etc.), there are some character inconsistencies, most characters are pretty flat, and it's missing that poetic quality that helps readers experience a story with all the senses. Pop culture references are somewhat dated. However, the teen dialogue is spot on, and there's enough good descriptive writing that it doesn't detract from the storytelling. Cast and her daughter do make a good team.
There's plenty of action to keep readers interested leading up to the exciting climax. A wide range of character personalities rings true in a high-school setting. Even though at the root of the story we're reading another triumph over bullying, vampire style, Marked is a page turner, and the reader will definitely be interested in continuing the series.
Content Analysis:
Profanity/Language: 19 religious exclamations; 66 mild obscenities; 16 derogatory names; 34 scatological words; 11 anatomical terms; 8 f-word derivatives.
Violence/Gore: A character falls and sustains minor scrapes with some blood; a character is badly injured in a fall with some blood; a character cuts another character with fingernails (twice) with some blood; characters drink blood; a character is seen with heavy bandages (no blood); vampire saliva is seen to trigger bleeding once the skin has been broken; sexual abuse of a child is vaguely referred to; a character contracts an condition in which he bleeds from all orifices and dies; a character sustains multiple scratches and cuts in a minor struggle.
Sex/Nudity: Characters flirt; sexual arousal is mentioned a few times; a character is accused of promiscuity; a character's breasts are mentioned a few times (looking at, comparing, etc.); underage characters are caught engaging in oral sex with minimal details; oral sex is referred to a few times; characters engage in provocative dancing and body movements a few times; homosexual kissing is referred to; a character is homosexual but does not engage in any sexual activity; a character is slapped on the buttocks (not sexually); female genitalia are vaguely referred to; characters kiss briefly a few times; sexual abuse of a child is vaguely referred to; characters kiss passionately.
Mature Subject Matter:
Family problems, bullying, death, underage drinking and drug use.
Alcohol / Drug Use:
Underage characters drink, smoke, and use marijuana.
Reviewed By Leslie