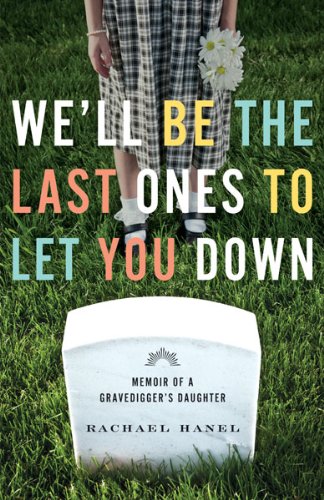 Publisher's Note:
Rachael Hanel's name was inscribed on a gravestone when she was eleven years old. Yet this wasn't at all unusual in her world: her father was a gravedigger in the small Minnesota town of Waseca, and death was her family's business. Her parents were forty-two years old and in good health when they erected their gravestone—Rachael's name was simply a branch on the sprawling family tree etched on the back of the stone. As she puts it: I grew up in cemeteries.


And you don't grow up in cemeteries—surrounded by headstones and stories, questions, curiosity—without becoming an adept and sensitive observer of death and loss as experienced by the people in this small town. For Rachael Hanel, wandering among tombstones, reading the names, and wondering about the townsfolk and their lives, death was, in many ways, beautiful and mysterious. Death and mourning: these she understood. But when Rachael's father—Digger O'Dell—passes away suddenly when she is fifteen, she and her family are abruptly and harshly transformed from bystanders to participants. And for the first time, Rachael realizes that death and grief are very different.

At times heartbreaking and at others gently humorous and uplifting, We'll Be the Last Ones to Let You Down presents the unique, moving perspective of a gravedigger's daughter and her lifelong relationship with death and grief. But it is also a masterful meditation on the living elements of our cemeteries: our neighbors, friends, and families—the very histories of our towns and cities—and how these things come together in the eyes of a young girl whose childhood is suffused with both death and the wonder of the living.
We'll Be the Last Ones to Let You Down: A Memoir of a Gravedigger's Daughter
by Rachael Hanel
Overall Review:
I must be honest here--sometimes I choose books based solely on their covers. Actually, I think this happens more often than not. It is so much easier to be attracted to a book that has a pretty cover, than to one that is ugly or unappealing to the eye. Would I have reached for this book if it had a low-quality picture of a simple wooden coffin on the front? Probably not. The title didn't really call out to me, and it was only after I read the synopsis that I thought I might actually care about the story within this book. I just knew that the cover looked nice. Almost fun, in fact.
This book was short, sweet, and to the point. It could almost be categorized as a memoir, but not quite, as the story often focused more on family history than on the life of the author herself. Death is still a bit of a sore subject with me, as I lost a loved one less than a year ago. Yet somehow I still manage to torture myself about once a month with a book that focuses on death and makes me cry. Although this book talked often of death and dying, I remained dry-eyed throughout. The stories inside weren't necessarily sad; they were more factual. It was interesting to gain the perspective of a young girl who grew up in a household where death was commonplace. I found myself wondering what a childhood like that would have been like.
A patron checked this book out and when she returned it to the library where I work she told me it was excellent. "Just excellent" she said. I would have to disagree. While this book was worthwhile, it isn't a five-star read. Perhaps I was just in an odd mood, but the story just didn't catch my interest like I felt it should have. That's why I am giving it the four stars...but the cover? The cover gets five!
Content Analysis:
Profanity/Language: 3 religious exclamations; 1 mild obscenity; 1 scatological word; 1 F-Word derivative.
Violence/Gore: Gruesome murder scene mentioned; serial killers mentioned with a brief description of methods of torture and killing; war is mentioned along with some brief mention of wounds sustained; president is mentioned to have been shot and killed; a car crash is mentioned, a person dies.
Sex/Nudity: None
Mature Subject Matter:
Death, murder, war.
Alcohol / Drug Use:
Adults drink beer; adults smoke cigarettes.
Reviewed By Lydia