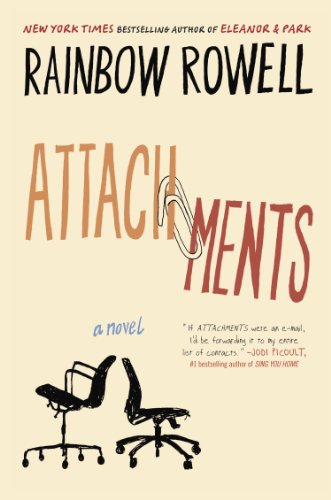 Publisher's Note:
"Hi, I'm the guy who reads your e-mail, and also, I love you . . . "
From the award-winning author of Eleanor & Park, Fangirl, and Landline comes a hilarious and heartfelt novel about love in the workplace.

Beth Fremont and Jennifer Scribner-Snyder know that somebody is monitoring their work e-mail. (Everybody in the newsroom knows. It's company policy.) But they can't quite bring themselves to take it seriously. They go on sending each other endless and endlessly hilarious e-mails, discussing every aspect of their personal lives.
Meanwhile, Lincoln O'Neill can't believe this is his job now- reading other people's e-mail. When he applied to be "internet security officer," he pictured himself building firewalls and crushing hackers- not writing up a report every time a sports reporter forwards a dirty joke.
When Lincoln comes across Beth's and Jennifer's messages, he knows he should turn them in. But he can't help being entertained-and captivated-by their stories.
By the time Lincoln realizes he's falling for Beth, it's way too late to introduce himself.
What would he say . . .?
Attachments: A Novel
by Rainbow Rowell
Overall Review:
Have you ever read a book and summed it up with the word "cute"? This book was the epitome of cute. I saw a close resemblance in it to other authors who write fiction books with a hint of romance--Jane Green and Emily Giffin came to mind. However, Rainbow Rowell does have a unique style. She knows how to make a character come alive off the pages, which not everyone can do. I started to care about the people I was reading about.
The way this book is written is interesting. One chapter is an email sent between two female co-workers, and in the next chapter it is a first-hand account of a young man who just got a new job that requires him to catch any suspicious activity going on in emails at a newsroom. This went on for the entirety of the book--going back and forth between male and female points of view. Amusingly, this particular male email monitor doesn't feel bad at all about taking a peek (or two...or three) at some private emails between friends. At first it's just something to help make the endless hours of the night go by, but soon enough it becomes somewhat of an obsession.
I don't know that men would enjoy this book much, but women will surely fall for the gossipy emails and bit of romance. This is a quick, fun read that I found hard to put down. Whether you are already a fan or just picking up one of Rainbow Rowell's books for the first time, Attachments is a book that is an easy read, and may even appeal to a mature teen.
Content Analysis:
Profanity/Language: 2 religious exclamations; 3 mild obscenities; 3 scatological words; 3 anatomical terms; 15 F-Word derivatives
Violence/Gore: None
Sex/Nudity: Adults kiss several times; sex is referred to several times; sex is implied several times with no detail; porn is mentioned/referenced with no detail; adults touch, hold hands.
Mature Subject Matter:
Ethics, computer hacking.
Alcohol / Drug Use:
Adults smoke; adults drink; drug use is briefly referred to with no detail.
Reviewed By Lydia