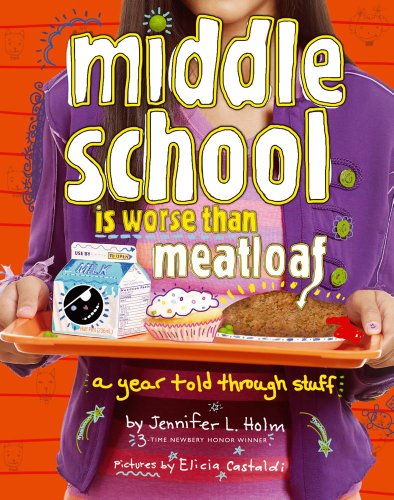 Publisher's Note:
Ginny has ten items on her big to-do list for seventh grade. None of them, however, include accidentally turning her hair pink. Or getting sent to detention for throwing frogs in class. Or losing the lead role in the ballet recital to her ex-best friend. Or the thousand other things that can go wrong between September and June. But it looks like it's shaping up to be that kind of a year!

As readers follow Ginny throughout the story of her year, told entirely through her stuff—notes from classmates, school reports, emails, poems, receipts, and cartoons from her perpetually-in-trouble older brother Harry—a portrait emerges of a funny, loveable, thoughtful girl struggling to be herself…whoever that person turns out to be.
Middle School Is Worse Than Meatloaf: A Year Told Through Stuff
by Jennifer L. Holm
Overall Review:
This book is truly brilliant! Think of a collage of all the minutiae of daily life assembled to tell the story of someone's life. Photographs of receipts, referrals, doctor bills, school papers, horoscopes--you name it. All the photo images are scattered across the pages in a chronological order that requires the reader to piece together the storyline. It is a little bit challenging and a whole lot enticing. The visual impact and appeal is high. It is masterful how the reader can come to know and love the protagonist, Ginny, through her "things". Ginny may not know it, but she is quite funny and her zest and optimism are charming. Her problems are realistic and relate-able.
It might be tempting to some to compare this book to doodle diaries like Wimpy Kid, but don't you dare! It is much better. Also, this book was published before that craze hit and was an original and fresh concept. The eclectic nature of the items and the lack of formal narrative results in a story that isn't told, but experienced. A perfect book for anyone who has survived a year of junior high or middle school. One of my favorite books...ever!
Content Analysis:
Profanity/Language: None
Violence/Gore: Report of death in the past in a car accident; reports of vandalism; destruction of property in accident; report of accident resulting in a broken bone; report of character slapping another character.
Sex/Nudity: Report of characters kissing; passing report that a character took off clothes when drunk (non-sexual).
Mature Subject Matter:
Vandalism/juvenile delinquency, death of a parent.
Alcohol / Drug Use:
Report of a death caused by a drunk driver; character says in passing that an 8th grader drank a wine cooler and another 8th grader got drunk; report of a teenage character becoming intoxicated and wrecking a car.
Reviewed By Cindy