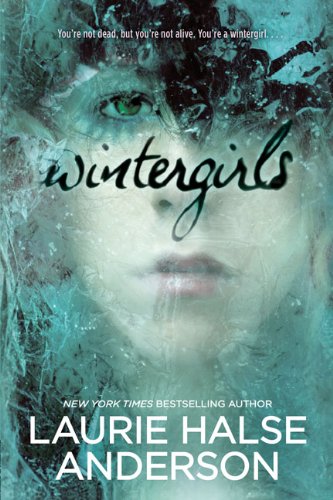 Publisher's Note:
The New York Times bestselling story of a friendship frozen between life and death

Lia and Cassie are best friends, wintergirls frozen in fragile bodies, competitors in a deadly contest to see who can be the thinnest. But then Cassie suffers the ultimate loss-her life-and Lia is left behind, haunted by her friend's memory and racked with guilt for not being able to help save her. In her most powerfully moving novel since Speak, award-winning author Laurie Halse Anderson explores Lia's struggle, her painful path to recovery, and her desperate attempts to hold on to the most important thing of all: hope.
Wintergirls
by Laurie Halse Anderson
Overall Review:
Laurie Halse Anderson's prodigious gift for writing about difficult life situations with beauty and grace cannot be underestimated. Wintergirls is haunting and thought-provoking. Anderson's characters are completely believable, due in part to her extensive research, but mostly because she has the innate ability to get inside teen's heads and illustrate what's going on in there.
While the book is directed at teen readers who often experience eating disorders and mental illness, or know friends that do, I had a hard time seeing how it could help them gain awareness. Mostly it was just a creepy, scary story. It's a really, really good creepy, scary story, but there's not so much educating on how to avoid or help with these problems. For adults, however, Wintergirls becomes a cautionary tale, and shows them what to look out for in a young loved one who seems to be struggling. Anderson shows us the value of loving communication, and the harm adults can unwittingly inflict on kids' delicate psyches.
Anderson ends on a note of hope, as all books of this intensity should. The reader is left reflecting deeply on the worth of an individual and the will to live in each of us. Wintergirls will be on your mind for a long time.
Content Analysis:
Profanity/Language: 5 religious exclamations; 14 mild obscenities; 1 religious profanity; 13 derogatory names; 5 scatological words; 3 anatomical terms; 1 f-word derivative.
Violence/Gore: A character is found dead of unknown causes and scene/death is described, no mention of blood or violence; a character hallucinates various (3) violent situations; characters prick their fingers and swear a blood oath as children; a character attacks another character, giving him a bloody nose and black eye; a character cuts herself (self-mutilation) with no blood (twice); the story of a fatal car accident is related in some detail; a character claims to have been physically abused; characters cut themselves and swear a blood oath as teens; a character cuts herself (self-mutilation) badly with some blood.
Sex/Nudity: Condoms are mentioned; a vague allusion is made to sexual abuse; a character has her bra snapped; a character is known to have gotten pregnant out of wedlock; characters flirt; a character must strip naked to be weighed; a character removes clothing to show cutting wounds; accusation of homosexuality.
Mature Subject Matter:
Suicide, eating disorders, family problems, mental illness, homosexuality (accusation), cutting (self-mutilation).
Alcohol / Drug Use:
Prescription drug abuse, smoking, alcohol abuse, social drinking, marijuana is mentioned.
Reviewed By Leslie