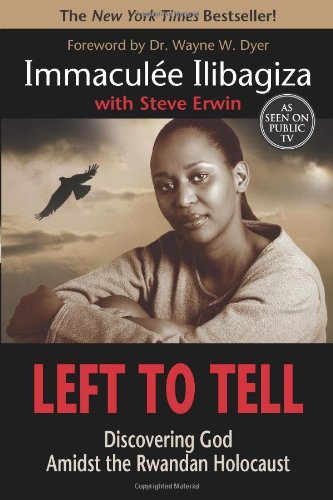 Publisher's Note:
Immaculee Ilibagiza grew up in a country she loved, surrounded by a family she cherished. But in 1994 her idyllic world was ripped apart as Rwanda descended into a bloody genocide. Immaculee's family was brutally murdered during a killing spree that lasted three months and claimed the lives of nearly a million Rwandans.


Incredibly, Immaculee survived the slaughter. For 91 days, she and seven other women huddled silently together in the cramped bathroom of a local pastor while hundreds of machete-wielding killers hunted for them.


It was during those endless hours of unspeakable terror that Immaculee discovered the power of prayer, eventually shedding her fear of death and forging a profound and lasting relationship with God. She emerged from her bathroom hideout having discovered the meaning of truly unconditional love—a love so strong she was able seek out and forgive her family's killers.

The triumphant story of this remarkable young woman's journey through the darkness of genocide will inspire anyone whose life has been touched by fear, suffering, and loss.
Left to Tell
by Immaculee Ilibagiza
Overall Review:
Immaculee Ilibagiza's story of survival is both chilling and inspiring. Her humility, faith, and capacity for love and forgiveness carry both her and her readers through the sharing of experiences that are too brutal to imagine.
Collaborator Steve Erwin is a journalist, and the writing style of the book demonstrates that very clearly. Left to Tell often feels like a series of facts that are being laid out for the reader like a news story. This isn't all bad, however. The story is so horrifying that some detachment in the retelling helps us all get through it.
Left to Tell is a compelling page-turner that inspires questions and introspection--where was my country when these people were in need? Would I be able to forgive as Immaculee has done? How can I live my life better for knowing this story of personal triumph and faith? It is a book well worth reading.
Content Analysis:
Profanity/Language: 8 religious exclamations; 1 mild obscenity.
Violence/Gore: A house is burned to the ground (twice); characters discuss a suicide plan in the event that they are threatened with rape; a person is attacked and stripped of her clothing; people are threatened by a mob (twice); a person is reported to have been killed when his plane is shot down; mobs attack and kill large numbers of people with no detail (twice); 2 news reports of killings; 5 instances of people being hacked to death with machetes, vague details; people are threatened with rape or the idea of rape; a person imagines killing and death in detail; dead bodies are piled high and the stench is described (3 times); a child is killed by dogs with no detail; a person describes witnessing a beheading with few details; dogs attack and eat corpses; the brutal murder of a person is described in graphic detail twice--one extended scene; a person describes the gang rape and murder of a woman in front of her family; a person is cut and disfigured with some blood; a person is shot to death; refugees are covered with open sores, blisters, and cuts; a person is slashed with a machete, stabbed multiple times, and left for dead; buildings are found burned, looted, and destroyed by machine gun fire; a person's body is exhumed and reburied--described in graphic detail in an extended scene.
Sex/Nudity: Characters kiss briefly (3 times); a character's clothing is so threadbare that it can be seen through; a person is attacked and stripped of her clothing; a person describes the gang rape of a woman in front of her family (this event is also identified above in the Violence/Gore section).
Mature Subject Matter:
War, genocide, death of family members, murder, rape, racism, starvation.
Alcohol / Drug Use:
Marijuana use, smoking, alcohol abuse, social drinking.
Reviewed By Leslie