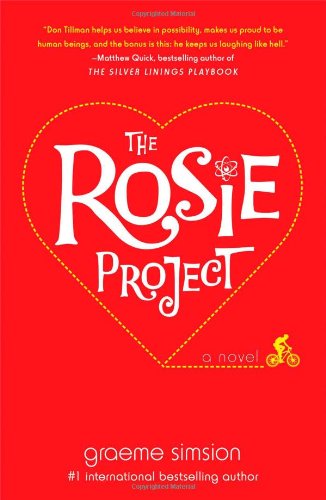 Publisher's Note:
THE ART OF LOVE IS NEVER A SCIENCE

MEET DON TILLMAN, a brilliant yet socially challenged professor of genetics, who's decided it's time he found a wife. And so, in the orderly, evidence-based manner with which Don approaches all things, he designs the Wife Project to find his perfect partner: a sixteen-page, scientifically valid survey to filter out the drinkers, the smokers, the late arrivers.

Rosie Jarman is all these things. She also is strangely beguiling, fiery, and intelligent. And while Don quickly disqualifies her as a candidate for the Wife Project, as a DNA expert Don is particularly suited to help Rosie on her own quest: identifying her biological father. When an unlikely relationship develops as they collaborate on the Father Project, Don is forced to confront the spontaneous whirlwind that is Rosie—and the realization that, despite your best scientific efforts, you don't find love, it finds you.

Arrestingly endearing and entirely unconventional, Graeme Simsion's distinctive debut will resonate with anyone who has ever tenaciously gone after life or love in the face of great challenges. The Rosie Project is a rare find: a book that restores our optimism in the power of human connection.
The Rosie Project
by Graeme Simsion
Overall Review:
The Rosie Project is a delightful, yet unconventional, love story. Author Graeme Simsion creates a fascinating narrator, Don, who is unlike any character I've ever read. While Don describes himself as "socially awkward", his character is really quite sweet and charming. Don's voice shines as he memorably shares his story (along with his many peculiar and funny quirks).
Rosie is a perfect blend of subtle humor and laugh out loud funny. Simsion does an incredible job of placing his characters in tough situations and helping them grow. Don's rigid character evolves throughout the story and I couldn't help but cheer for his success in finding a wife. Readers won't be able to put Rosie down!
Content Analysis:
Profanity/Language: 7 religious exclamations, 1 mild obscenity, 1 derogatory name, 19 scatological words, 2 anatomical terms and 31 f-word derivatives.
Violence/Gore: A report of violence; two scenes involving fistfights and martial arts.
Sex/Nudity: Sex references and discussions about sex occur frequently and for several pages throughout the book; a few incidents of kissing and hand-holding; several reported and/or implied accounts of sexual activity between adults.
Mature Subject Matter:
Infidelity, suicide, homosexuality, loss of family members, bullying, allusions to masturbation and virginity.
Alcohol / Drug Use:
Characters drink and smoke frequently; characters are often drunk.
Reviewed By Rachel