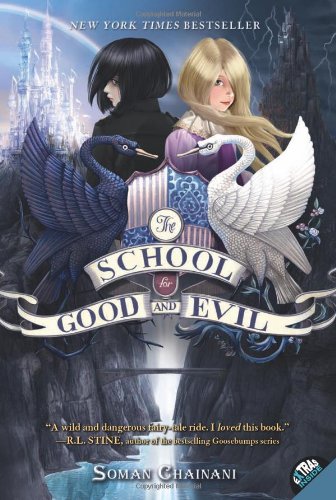 Publisher's Note:
The New York Times bestselling The School for Good and Evil, the first book in the series, is an epic journey into a dazzling new world, where the only way out of a fairy tale is to live through one. This paperback edition features an Extras section, giving readers a chance to see which school they'd be in and a Q&A with the author, Soman Chainani.
With her glass slippers and devotion to good deeds, Sophie knows she'll earn top marks at the School for Good and join the ranks of past students like Cinderella, Rapunzel, and Snow White. Meanwhile, Agatha, with her shapeless black frocks and wicked black cat, seems a natural fit for the villains in the School for Evil.
The two girls soon find their fortunes reversed—Sophie's dumped in the School for Evil to take Uglification, Death Curses, and Henchmen Training, while Agatha finds herself in the School for Good, thrust among handsome princes and fair maidens for classes in Princess Etiquette and Animal Communication.
But what if the mistake is actually the first clue to discovering who Sophie and Agatha really are?
The School for Good and Evil
by Soman Chainani
Overall Review:
Some might argue that there is an over-abundance of fairy tale re-mixes and re-writes these days; that perhaps the genre is overused and overtired. It was with this thought that I reluctantly picked up The School for Good and Evil. Within the first few chapters, I had to admit that author Soman Chainani had indeed brought something fresh to the world of fairy tales. The characters of Sophie and Agatha were unexpected and nuanced, the tone at times irreverent, the humor dry and sparkly at the same time, and the message poignant.
Part of the charm of the book was the internal conflict of the characters, their flip-flopping, and quest to answer the question of whether they were good or evil. Unfortunately, by the two-thirds mark of the book, it felt like the plot and characters were caught in an infinite loop. Who was good? Who was bad? Everyone kept switching sides and it was happening so often that it started to be exhausting as a reader and then it started to become uninteresting, which is never a good sign. It also started to feel a bit muddled. Some of this was probably intentional, because good and evil aren't always clear-cut--that is one of the driving themes of the book, but it eventually hit a point of diminishing returns and started to dilute the power of the book's message.
That quibble aside, young readers will find much to love--the school concept, the magic, and the non-stop action. (There are pages and pages of action, so no slow spots in this novel.) The author left the end somewhat convoluted and the characters in disarray. It is assumed that is intentional since this is the first book in a series.
Content Analysis:
Profanity/Language: 1 religious exclamation.
Violence/Gore: Many references to fairy tale violence in stories; characters are pushed; characters are man-handled a bit; character chased by mythical creatures that try to kill with fire, eating, etc. and character falls with minor injury; student kicked and hit by other students (brief); character punched, bit; animals chase character; fire resulting in destruction of property; character kills (beheads) a character with a sword; character punched in the eye; demon attacks a character with wasps, bats, etc.; verbal threats; characters plan how to murder someone; characters punished with burning shoes; characters see a half-eaten goat; character is bit, shot at, etc.; brawl breaks out among students resulting in minor injuries; character viciously pushes another mythical character to its death; there is a line of unburied bodies in a graveyard; shooting of arrows at characters; fantasy creature sealed in a well; various frightening dreams with mention of blood; extended multi-page scene in which students are trying to kill each other with magic, demons, knives, etc.; many brief incidences/reports of pranks and vandalism, some intended to be comic in nature; reports of punishment and that someone was killed; character pushed into the water and almost drowned; character attacked and injured by magic, mention of blood; brawl between students; extended multi-page battle scene with injuries and deaths of mythical creatures; character tripped and knocked unconscious; extended multi-page battle scene with injuries, attempts to kill, implied death, death of magical entity.
Sex/Nudity: Joke about mating reference; reference to Guinevere leaving King Arthur for Lancelot (infidelity); a few occasions when clothes are removed to do a transformation spell and characters are naked when the spell ends (non-sexual); characters hold hands; character repeatedly tries to get another to kiss her; disparaging remark about girls being girlfriends.
Mature Subject Matter:
Bullying, attempted murder, revenge/betrayal.
Alcohol / Drug Use:
Toad smokes a cigar.
Reviewed By Cindy