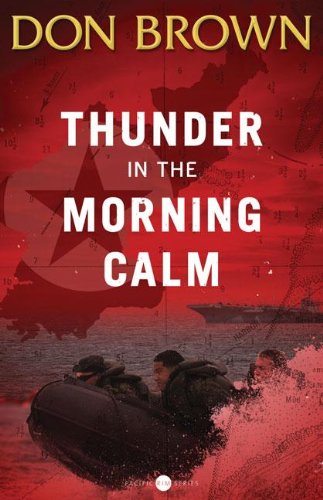 Publisher's Note:
Lieutenant Commander "Gunner" McCormick is assigned as an intelligence officer to Carrier Strike Force 10, being deployed to the Yellow Sea at the invitation of South Korea for joint exercises with the US Navy. During his pre-deployment briefing, he discovers a TOP-SECRET MEMO revealing rumors that the North Koreans may still be holding a handful of elderly Americans from the Korean War in secret prison camps. As it happens, Gunner's grandfather, who was a young marine officer in the Korean War, disappeared at Chosin Reservoir over 60 years ago and is still listed as MIA in North Korea. Sworn to silence about what he has read, the top-secret memo eats at him. Gunner decides to spend all his inheritance and break every military regulation in the book to finance his own three-man commando squad on a suicide mission north of the DMZ to search for clues about the fate of his grandfather. Risking his career, his fortune, and his life, Gunner will get his answers, or he will die trying. Don Brown is building a loyal fan base by writing what he knows best: thrillers with heart. A former Navy JAG officer and action officer in the Pentagon, Brown pens action-packed plots and finely-drawn characters that are credible and compelling. Thunder in the Morning Calm is a novel of bravery, duty, and family love that will keep readers of all ages reading straight through to the last page.
Thunder in the Morning Calm
by Don Brown
Overall Review:
Thunder in the Morning Calm is the first book in Don Brown's Pacific Rim series and what a book it is! It's hard to express how refreshing it is to have a book where there is not a hidden romance blooming around every turn. Romances are fine, but not every story needs to have one. If for no other reason than this, the book could be worthy of five stars.
This military thriller draws on all types of characters and pulls its readers into the story. The maps in the book are especially nice and help a lot. Although the characters are not having amazing dialogues, it feels natural and perhaps un-noteworthy as every day conversations often are.
Unfortunately, the best part of the story is a plot spoiler and will not be written here, but suffice to say that not every event in the story is a happy ending, but those who read on to the end will feel satisfied and fulfilled. The author is able to get readers to empathize with the pains and sorrows of his characters.
If the next book in the series is anything like the first, readers will find themselves immersed in the exciting and intense world of military adventures.
Content Analysis:
Profanity/Language: 3 religious exclamations, 1 mild obscenity.
Violence/Gore: Prisoners are abused by guards, including whippings and shoving; several instances of gunfire exchanges in combat situations; people shot and killed; characters are on fire as a result of combat weapons; character hit and blood drips; reports of suicide, knife fights, and torturous burning; characters threaten other with guns.
Sex/Nudity: Characters behave in "sexy" manner; a person has a mistress and they are involved in kissing, hugging, flirting and sleeping in same bed, sex is not specifically mentioned, but could be understood; character is accused of sleeping with another.
Mature Subject Matter:
Prisoners of war, suicide, death of spouse/parent/friend.
Alcohol / Drug Use:
Adult characters consume alcohol and smoke cigarettes.
Reviewed By Susan