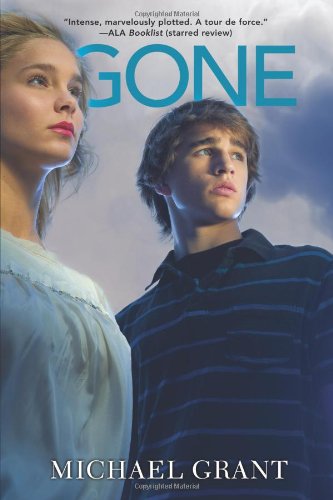 Publisher's Note:
The first in New York Times bestselling author Michael Grant's breathtaking dystopian sci-fi saga, Gone is a page-turning thriller that invokes the classic The Lord of the Flies along with the horror of Stephen King.
In the blink of an eye, everyone disappears. Gone. Except for the young. There are teens, but not one single adult. Just as suddenly, there are no phones, no internet, no television. No way to get help. And no way to figure out what's happened. Hunger threatens. Bullies rule. A sinister creature lurks. Animals are mutating. And the teens themselves are changing, developing new talents—unimaginable, dangerous, deadly powers—that grow stronger by the day. It's a terrifying new world. Sides are being chosen, a fight is shaping up. Townies against rich kids. Bullies against the weak. Powerful against powerless. And time is running out: on your birthday, you disappear just like everyone else. . . .
Michael Grant's Gone has been praised for its compelling storytelling, multidimensional characters, and multiple points of view
Gone
by Michael Grant
Overall Review:
One can't help comparing Gone to Lord of the Flies (see publisher's note), but there's a lot more to this exciting story than kids left alone and turning violent. Throw in a little X-Men and Planet of the Apes, written with a Stephen King flair, and you've got a better idea of what Michael Grant has achieved here.
Gone is stop-and-go action--nothing happens for a while and the story does drag in parts--and then everything cuts loose into twisted, scary, heart-pounding conflict. The reader has a hard time predicting what will happen, due to emerging powers and shifting loyalties. Our protagonist is a good guy--conflicted, but heroic. He's easy to root for, and the antagonists are easy to hate.
Gone isn't a masterpiece by any means. The writing can be pedantic. But it's definitely a page turner (most of the time) and it's a series kids with an affinity for action, the supernatural, and violent conflict will eat up.
Content Analysis:
Profanity/Language: 22 religious exclamations; 1 derogatory name; 5 scatological words; 1 anatomical term; 1 obscene gesture.
Violence/Gore: In an extended scene (3 pgs), a character is badly injured in a car accident; a character is burned to death; a pet is badly injured (some blood); characters fight in close combat with improvised weapons (4 brief scenes, 2 extended scenes); a character's severe injury is described in detail; a character is badly injured after being attacked with a large blunt object; a character dies after being badly beaten; characters find a dead body, no details; characters fistfight (2 times); a character describes how to shoot to kill; in an extended scene (6 pgs), characters fight across two boats using knives and other weapons; characters are attacked and mauled by wild animals (3 times); characters encounter a creepy supernatural power (twice); a character sustains mild injuries while hiking; a story is told of a character's permanent disability due to a fall; a building is destroyed, no injuries; characters are injured by a person with supernatural powers (2 times); in an extended scene (3 pgs) characters fight off wild animals; characters in captivity are subdued by encasing hands in cement (twice); characters in captivity are treated violently (3 times); a character is shot in the knee at close range; a character's arm is blown off by supernatural powers; characters' injuries are described in detail (twice); a character relates a story of domestic violence; a character is badly shocked; a character is cut by a whiplash (3 times); a character is uninjured after a bad car crash; a character is bitten by a wild animal; wild animals are killed and chased away by an explosion; in an extended scene (10 pgs), humans battle other human characters and wild animals using guns, superpowers, and improvised weapons.
Sex/Nudity: Characters embrace (2 times); a character relates the story of a parent's marital infidelity; characters hold hands (twice); characters kiss briefly (3 times); a character reports attempted molestation; a character caresses another characters face; a character kisses another character on the cheek.
Mature Subject Matter:
Kidnapping, abandonment, family problems, eating disorders, theft, rioting, looting, death, murder, prescription drug abuse, supernatural powers with an unknown source.
Alcohol / Drug Use:
Teens drink alcohol and smoke; a character abuses prescription drugs.
Reviewed By Leslie