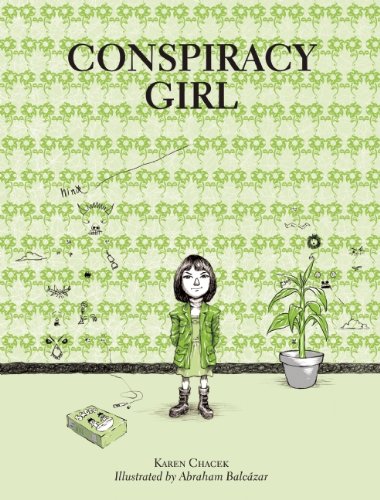 Publisher's Note:
Wee that flock of birds over there? Looks pretty normal, right? But Nina sees right through their mangy feathers and divines their plot to end the world in a nuclear ball of white noise. What to do? Save the world armed only with a box of cereal? Perhaps.
Karen Chacek lives in Mexico City. She writes science fiction, graphic novels, and stories for children. A story of hers appears in Three Messages and a Warning, a science fiction anthology from Small Beer Press.
Abraham Balcázar is an illustrator based in Mexico City. He posts new work regularly at abrahambalcazar.blogspot.com.
This book was sent to Compass Book Ratings for review by Cinco Puntos Press
Conspiracy Girl
by Karen Chacek
Overall Review:
Conspiracy Girl is a quirky cause-and-effect story that will engage middle readers who loved If You Give a Mouse a Cookie. Billed as a graphic novel, it's really more like an advanced picture book. The artwork is descriptive and absorbing. It's filled with clever little allusions to commonly held conspiracy theories that will go right over young readers' heads, but will delight their elders.
The storyline isn't completely clear, which all adds to the quirkiness and general conspiracy feeling; there's some question about what gets all the crazy events going. The antagonists' motives are also unclear, but maybe that doesn't really matter in the big scheme of things.
Clearly, the author and illustrator are co-conspirators in this wacky endeavor; to wit:
* Conspiring to increase vocabulary skills: the author definitely does not talk down to the reader, who is in for a linguistic treat. Most of the time the context and illustrations will help decipher difficult words. It may help young readers to understand what a conspiracy is before reading--the definition isn't provided in the text, which this reviewer finds to be an unfortunate oversight. Or is it?
* Conspiring to provide quality time for adults and children: when enjoyed together, readers young and old are in for a fun ride.
* Conspiring to foster empowerment of young persons: never underestimate the power of calm, rational thought--and the well-aimed cereal box.
Read Conspiracy Girl! Its true-to-life antics of a world gone crazy with noise will entertain and inspire.
Content Analysis:
Profanity/Language: None
Violence/Gore: Birds crash into power lines.
Sex/Nudity: None
Mature Subject Matter:
Death of a family member.
Alcohol / Drug Use:
One character lights a cigarette.
Reviewed By Leslie