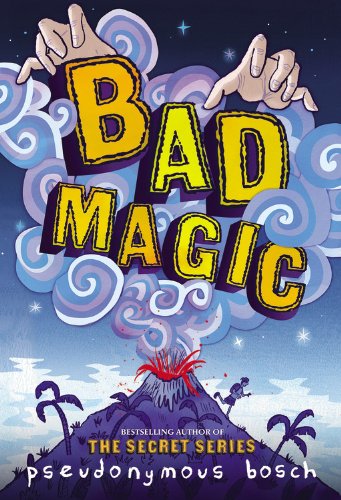 Publisher's Note:
A magical new series from Pseudonymous Bosh, the bestselling author of the Secret Series
Magic is BAD.
As in fake. Cheesy. Unreal. At least, that's what Clay, who has seen one magic show too many, thinks.

When words from his journal appear mysteriously on his school wall as graffiti, he never imagines that magic might be to blame. And when the same graffiti lands him at Earth Ranch, a camp for "troubled" kids on a remote volcanic island, magic is the last thing he expects to find there.

But at Earth Ranch, there is one strange surprise after another, until Clay no longer knows what to expect. Is he really talking to a llama? Did he really see a ghost? What is the scary secret hidden in the abandoned library? The only thing he knows for sure is that behind the clouds of vog (volcanic smog), nothing is as it seems. Can he solve the riddle of Earth Ranch before trouble erupts?

Elusive author Pseudonymous Bosch introduces an extraordinary new series that will have you believing in the unbelievable.
This book was sent to Compass Book Ratings for review by Little, Brown Books for Young Readers
Bad Magic
by Pseudonymous Bosh
Overall Review:
Bad Magic by Pseudonymous Bosh is the first book in the author's new series. It begins as a contemporary middle grade book, evolves into a perplexing mystery, and ends as something altogether different. The author is masterful at keeping not only the protagonist guessing, but also the reader.
Stylistically, the wall between the narrator and the reader is down, with charming and dry-humored narrator footnotes providing a high degree of entertainment and a feeling of conspiratorial intimacy with the author. Middle grade readers may not pick up on all the hidden references to other literary works, such as The Lord of the Flies, but they will be well-versed in The Tempest by the book's conclusion. Brief chapters and illustrations make the book a quick read and with a skateboarding, independent, cool male protagonist, this book should appeal to both young female and male readers.
Review of an Advance Reader Copy
Content Analysis:
Profanity/Language: 2 scatological words.
Violence/Gore: Bully threatens and pushes another; report of deaths in past due to accidents and disasters; character hits head and is rendered unconscious; character shows up with the "bloody carcass" of a wild pig that he speared; verbal threat to kill; character suffers minor injuries such as scrapped knees, etc.
Sex/Nudity: Reference to a make-out party; comment that a member of the opposite sex is good-looking; a character refers to his "moms."
Mature Subject Matter:
None
Alcohol / Drug Use:
None
Reviewed By Cindy