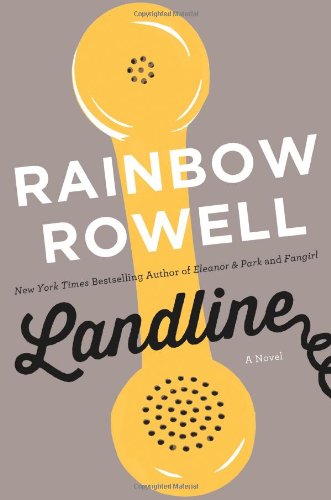 Publisher's Note:
From New York Times bestselling author of Eleanor & Park and Fangirl, Rainbow Rowell, comes a hilarious, heart-wrenching take on love, marriage, and magic phones.
Georgie McCool knows her marriage is in trouble. That it's been in trouble for a long time. She still loves her husband, Neal, and Neal still loves her, deeply—but that almost seems beside the point now.
Maybe that was always beside the point.

Two days before they're supposed to visit Neal's family in Omaha for Christmas, Georgie tells Neal that she can't go. She's a TV writer, and something's come up on her show; she has to stay in Los Angeles. She knows that Neal will be upset with her—Neal is always a little upset with Georgie—but she doesn't expect to him to pack up the kids and go without her.

When her husband and the kids leave for the airport, Georgie wonders if she's finally done it. If she's ruined everything.

That night, Georgie discovers a way to communicate with Neal in the past. It's not time travel, not exactly, but she feels like she's been given an opportunity to fix her marriage before it starts. . . .

Is that what she's supposed to do?

Or would Georgie and Neal be better off if their marriage never happened?
Landline
by Rainbow Rowell
Overall Review:
There has been a lot of buzz about this book this summer. And it is well earned. Although I didn't quite get into this book as much as I did Eleanor & Park and Fangirl, it was a fun read to be sure. I was reminded of Emily Giffin's or Jane Green's books, so if these authors have a writing style you like, and you have never read anything by Rainbow before, you can be pretty sure this book will be worth your time.
Landline was cute and sad and lovely. As I was reading it, and seeing the issues that the main character, Georgie, and her husband had in their marriage, I kept thinking, "Will that be me in ten years?" and getting a little scared. Besides that, this book was a wonderful read. It had a little bit of magic mixed in with the reality, which is always something that makes a book even more inviting to me. This book had a bit of a young adult feel to it, but the relationships and narrator were middle-aged, which might help make this book appeal to both adults and teens. All in all I was charmed by this story that was ultimately a tale of how even when love can seem scarce, we don't have to look far to find it was there all along.
Content Analysis:
Profanity/Language: 15 religious exclamations; 2 mild obscenities; 1 derogatory name; 1 scatological word; 1 anatomical term; 14 F-Word derivatives.
Violence/Gore: A character is mentioned to have died of natural causes.
Sex/Nudity: Adults kiss; adults are implied to have sex several times; sex is referred to several times.
Mature Subject Matter:
Death, personal crises.
Alcohol / Drug Use:
Adults drink; potheads mentioned.
Reviewed By Lydia