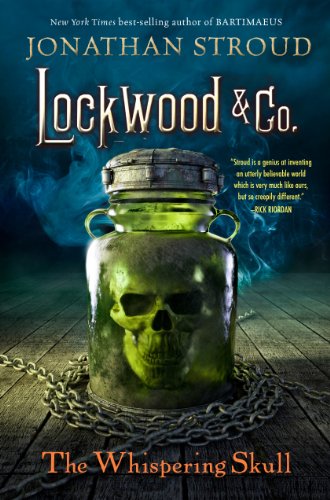 Publisher's Note:
In the six months since Anthony, Lucy, and George survived a night in the most haunted house in England, Lockwood & Co. hasn't made much progress. Quill Kipps and his team of Fittes agents keep swooping in on Lockwood's investigations. Finally, in a fit of anger, Anthony challenges his rival to a contest: the next time the two agencies compete on a job, the losing side will have to admit defeat in the Times newspaper.

Things look up when a new client, Mr. Saunders, hires Lockwood & Co. to be present at the excavation of Edmund Bickerstaff, a Victorian doctor who reportedly tried to communicate with the dead. Saunders needs the coffin sealed with silver to prevent any supernatural trouble. All goes well-until George's curiosity attracts a horrible phantom.

Back home at Portland Row, Lockwood accuses George of making too many careless mistakes. Lucy is distracted by urgent whispers coming from the skull in the ghost jar. Then the team is summoned to DEPRAC headquarters. Kipps is there too, much to Lockwood's annoyance. Bickerstaff's coffin was raided and a strange glass object buried with the corpse has vanished. Inspector Barnes believes the relic to be highly dangerous, and he wants it found.

The author of the blockbuster Bartimaeus series delivers another amusing, chilling, and ingeniously plotted entry in the critically acclaimed Lockwood & Co. series.
This book was sent to Compass Book Ratings for review by Hyperion Books for Children (A Disney Imprint)
The Whispering Skull
by Jonathan Stroud
Overall Review:
Mr. Jonathan Stroud does not disappoint! With all his trademark humor, witty dialogue, and masterful characterization in the second book in his Lockwood and Company series, The Whispering Skull, he continues to deliver nail-biting atmosphere in one sentence and laugh-out-loud banter in the next.
When it comes to the more gruesome and gritty side of ghost hunting, the author doesn't hold back, so this is a tale for those readers who like it scary and creepy. However, the Lockwood and Company team is so charismatic it may compel even a squeamish reader to press on in spite of their qualms.
It is not necessary to read the first book in this series to follow and enjoy the story in The Whispering Skull. (But why deprive yourself by not reading The Screaming Staircase?) However, it is almost a guarantee that readers will be rushing for the next book, because Mr. Stroud wraps up this book with a series-changing revelation. Can't wait to see what he has planned!
Review of an Advance Reader Copy
Content Analysis:
Profanity/Language: 5 religious exclamations; 9 mild obscenities.
Violence/Gore: Extended scary scene with details about deaths and graphic descriptions of a ghosts i.e. "curls of rotting skin," etc.; sparring with swords for practice; reference to severed limbs in freezer; frightening, creepy description of a ghost; references to past ghost cases and their violent deaths; report of a character being ghost-touched; extended, detailed and somewhat gruesome report of how someone died; extended description of decaying corpse exhumed from a coffin; report of theft and someone being knocked unconscious; report of previous deaths; brief fight with punching, tripping, and threat at rapier point; brief, but detailed description of dead person; verbal threats; second hand report of ancient mother/child suicide/murder, non-detailed; characters fight frightening apparition; characters are seen being arrested and chased by dogs; reports of beating/killing/death (non-descriptive); characters man-handled and thrown out on street; discussion about grave-robbing activities; report of building burning down and there being a loss of life, general; character murdered by knife, mention of blood; description of frightening skull in jar; multi-chapter extended fighting scene in haunted house with descriptions of ghosts, voices, dissection table, body parts, rats with fighting with rapiers, salt bombs, etc.; characters examine in detail illustrations of corpses, corpses' arms being cut off, etc.; detailed description of skeleton and how he died; extended scene with flares, explosives, chasing, verbal threats, rapiers, implied death in a fall; report of dark rituals w/bloody butcher knives; extended frightening scene in catacombs with ghosts, threats, hitting, rapier, chains, struggling, etc.; character killed by a ghost; report of a sword and cudgel fight, non-detailed, minor injuries.
Sex/Nudity: None
Mature Subject Matter:
Paranormal/ghosts, occult/cults, grave robbing, murder, death.
Alcohol / Drug Use:
None
Reviewed By Cindy