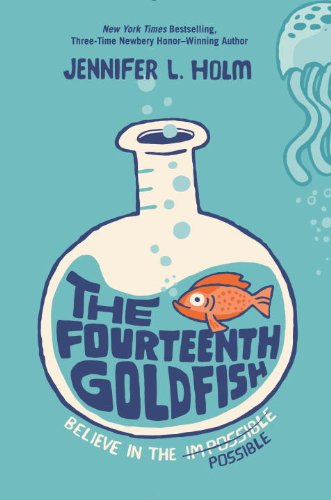 Publisher's Note:
Believe in the possible . . . with this brilliantly quirky, thought-provoking novel from New York Times bestseller, three-time Newbery Honor winner Jennifer L. Holm


Galileo. Newton. Salk. Oppenheimer.
Science can change the world . . . but can it go too far?


Eleven-year-old Ellie has never liked change. She misses fifth grade. She misses her old best friend. She even misses her dearly departed goldfish. Then one day a strange boy shows up. He's bossy. He's cranky. And weirdly enough . . . he looks a lot like Ellie's grandfather, a scientist who's always been slightly obsessed with immortality. Could this pimply boy really be Grandpa Melvin? Has he finally found the secret to eternal youth?


With a lighthearted touch and plenty of humor, Jennifer Holm celebrates the wonder of science and explores fascinating questions about life and death, family and friendship, immortality . . . and possibility.
This book was sent to Compass Book Ratings for review by Random House Children's Books
The Fourteenth Goldfish
by Jennifer L. Holm
Overall Review:
Seamless and natural prose makes The Fourteenth Goldfish by Jennifer Holm an effortless read. Besides being a snap to read, young readers on the brink of middle school will be able to relate to eleven-year-old Ellie. The book never delves too deep but has a cast of likeable characters, and especially endearing is Ellie's relationship with her grandfather.
Although not as complex, this novel has a similar feel to Rebecca Stead's When You Reach Me and is a great, lite-sci-fi book for middle grade readers, especially girls. It is also a fun introduction to some historical science giants with just enough information to perk a young reader's interest without overwhelming either them or the story with historical facts. The Fourteenth Goldfish is positive, fun, clever, insightful, and has an ending you have to love!
Review of an Advanced Reader Copy
Content Analysis:
Profanity/Language: None
Violence/Gore: Character learns that pets have died; passing report/statement that someone was hit by a car, no details; brief, creepy description of a mummy that is on display in a museum.
Sex/Nudity: Reference to "knocked up."
Mature Subject Matter:
Science ethics.
Alcohol / Drug Use:
A story is fabricated about a character and in the story the stepdad is a "meth addict"; picture of a man with a cigarette in his mouth; a teenage adult (this makes sense after you read the story) drinks several glasses of wine and throws up.
Reviewed By Cindy