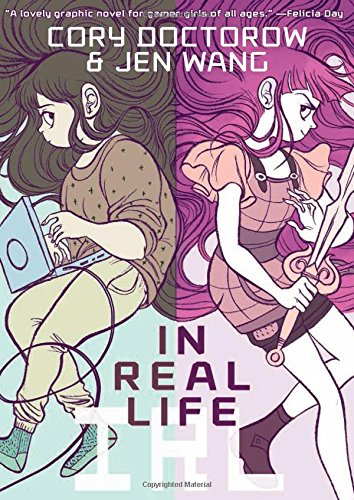 Publisher's Note:
Anda loves Coarsegold Online, the massively-multiplayer role playing game that she spends most of her free time on. It's a place where she can be a leader, a fighter, a hero. It's a place where she can meet people from all over the world, and make friends. Gaming is, for Anda, entirely a good thing.
But things become a lot more complicated when Anda befriends a gold farmer -- a poor Chinese kid whose avatar in the game illegally collects valuable objects and then sells them to players from developed countries with money to burn. This behavior is strictly against the rules in Coarsegold, but Anda soon comes to realize that questions of right and wrong are a lot less straightforward when a real person's real livelihood is at stake.
From acclaimed teen author Cory Doctorow and rising star cartoonist Jen Wang, In Real Life is a sensitive, thoughtful look at adolescence, gaming, poverty, and culture-clash.
This book was sent to Compass Book Ratings for review by First Second Books
In Real LIfe
by Cory Doctorow
Overall Review:
In Real Life is a gorgeously-illustrated graphic novel with a compelling story line. It tackles subjects that get little recognition--gamer girls and the ethics of gaming in general. The artwork and writing are easy to follow--both contributing equally to tell the story. Doctorow and Wang are clearly compatible collaborators.
The story itself is a little too preachy. The author tells readers in his introduction that he is attempting to educate on certain social and economic issues, and he does this with little pretense at hiding his views. In fact, this reader felt a little browbeaten by the end. For a young reader, this could be a turn-off as the writing feels a little forced--as though the story wanted to go a different direction but the author wouldn't let it.
In Real Life is worth reading though--especially for gamer girls who don't get to see themselves as heroines often enough. Again, the artwork is fantastic, and there are some sweet messages related to online safety and family involvement. It's a quick read that will make readers think.
Content Analysis:
Profanity/Language: 6 religous profanities; 5 mild obscenities; 2 derogatory names; 4 anatomical terms.
Violence/Gore: 5 instances of comic book violence involving game characters--no blood or gore (1 extended scene--4 pgs).
Sex/Nudity: None
Mature Subject Matter:
Poverty, disobedience to parents, political bullying.
Alcohol / Drug Use:
A character is known to smoke cigarettes.
Reviewed By Leslie