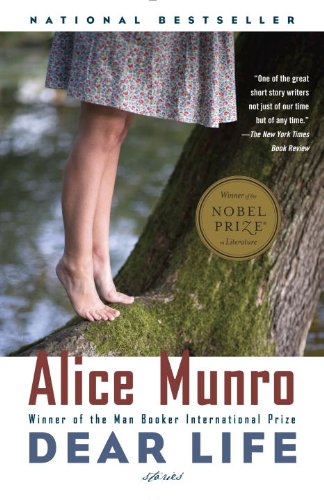 Publisher's Note:
A brilliant new collection of stories from one of the most acclaimed and beloved writers of our time.

Alice Munro's peerless ability to give us the essence of a life in often brief but always spacious and timeless stories is once again everywhere apparent in this brilliant new collection. In story after story, she illumines the moment a life is forever altered by a chance encounter or an action not taken, or by a simple twist of fate that turns a person out of his or her accustomed path and into a new way of being or thinking. A poet, finding herself in alien territory at her first literary party, is rescued by a seasoned newspaper columnist, and is soon hurtling across the continent, young child in tow, toward a hoped-for but completely unplanned meeting. A young soldier, returning to his fiancée from the Second World War, steps off the train before his stop and onto the farm of another woman, beginning a life on the move. A wealthy young woman having an affair with the married lawyer hired by her father to handle his estate comes up with a surprising way to deal with the blackmailer who finds them out.
While most of these stories take place in Munro's home territory—the small Canadian towns around Lake Huron—the characters sometimes venture to the cities, and the book ends with four pieces set in the area where she grew up, and in the time of her own childhood: stories "autobiographical in feeling, though not, sometimes, entirely so in fact." A girl who can't sleep imagines night after wakeful night that she kills her beloved younger sister. A mother snatches up her child and runs for dear life when a crazy woman comes into her yard.
Suffused with Munro's clarity of vision and her unparalleled gift for storytelling, these tales about departures and beginnings, accidents and dangers, and outgoings and homecomings both imagined and real, paint a radiant, indelible portrait of how strange, perilous, and extraordinary ordinary life can be.
Dear Life: Stories
by Alice Munro
Overall Review:
A few years ago, I picked up Dear Life, having never read anything else by Alice Munro, and rarely, if ever, having had read a collection of short stories. I could hardly get through this book back then. It just didn't hold my interest. But there was a article in the Wall Street Journal of an interview with Curtis Sittenfeld, an author whose books I adore greatly, and she spoke of how Alice Munro had inspired her writing. After reading the write-up I was convinced I should give Alice Munro one more try. I ended up listening to the audiobook version of Dear Life and to my surprise, I enjoyed this book! Sometimes I just give up too quickly if a book doesn't hold my interest, so I am glad I gave this book another chance, as it turned out to be a collection of stories that were actually quite interesting.
Sometimes when I read a book of short stories I am left with the feeling that all the individual stories ended too soon. That was not the case with this book. I felt like all of the stories had a good solid ending that left no room for needing any extra explanation. An extra plus that came from reading this book is that a patron came into the library where I work the other day and asked if I or my co-worker had read anything by Alice Munro. I was able to tell her that I had, and that the book I read was actually quite good. This is a collection of stories that are deep and yet not too deep. They hit close to home, and the characters are likeable. I will definitely give Alice more chances in the future.
Content Analysis:
Profanity/Language: 5 religious exclamations; 2 mild obscenities; 2 scatological words; 1 anatomical term; 2 F-Word derivatives
Violence/Gore: War casualties mentioned with no detail; death of a parent mentioned; a car crash is mentioned, one casualty; a baby is mentioned to have been strangled but no detail is given; a child is mentioned to be beaten for punishment.
Sex/Nudity: Adults kiss; losing virginity is mentioned; adults are mentioned to have sex, no detail is given; prostitution is mentioned with no detail; an affair is mentioned to transpire between two married people.
Mature Subject Matter:
Death.
Alcohol / Drug Use:
Adults smoke; adults drink.
Reviewed By Lydia