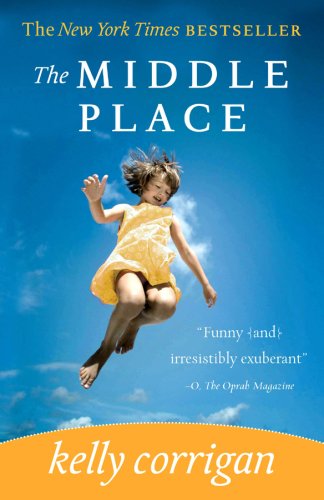 Publisher's Note:
For Kelly Corrigan, family is everything. At thirty-six, she had a marriage that worked, two funny, active kids, and a weekly newspaper column. But even as a thriving adult, Kelly still saw herself as the daughter of garrulous Irish-American charmer George Corrigan. She was living deep within what she calls the Middle Place--"that sliver of time when parenthood and childhood overlap"--comfortably wedged between her adult duties and her parents' care. But Kelly is abruptly shoved into coming-of-age when she finds a lump in her breast--and gets the diagnosis no one wants to hear. When George, too, learns that he has late-stage cancer, it is Kelly's turn to take care of the man who had always taken care of her--and to show us a woman who finally takes the leap and grows up.
The Middle Place
by Kelly Corrigan
Overall Review:
In The Middle Place Kelly Corrigan writes of how she pushes through breast cancer while being a friend, mother, wife and daughter. Her insights and feelings are real, making her readers aware of what is going on in her life. Kelly's thoughts and frustrations with treatments and how she is viewed by those around her are expressed throughout. Staying independent and true to herself helps it become more of a personal read. The worst comes when not only she, but her beloved father, "greenie," has to fight through bladder cancer after overcoming prostate cancer earlier in life. I was curious to read how Kelly felt undergoing so much stress in her life, and you really get a glimpse of someone in this circumstance without faith, only relying on who and what is around them. Stepping momentarily into her shoes, you can't help but to contemplate and feel the emotion of how you would react in such a difficult time.
Content Analysis:
In many instances Kelly Corrigan uses strong profanities, for lack of any other words, mostly to show her rage or pent-up frustrations.
Due to the nature of the book, being about a woman's experience with breast cancer, the author does talk about female anatomy at the beginning of the book and then in places throughout. This tends to give the book more of an adult theme. There is no romantic content or violence in this book. The Middle Place would be great for women that have gone through or know of anyone going through cancer,
Mature Subject Matter:
***
Alcohol / Drug Use:
Alcohol consumption is talked about a few times with a doctor and at a party.
Reviewed By SqueakyCleanReads