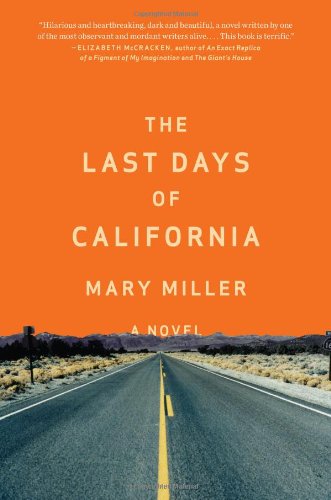 Publisher's Note:
A teenage girl and her unraveling family travel cross-country in preparation for the Rapture in this radiant, highly anticipated debut.
Fifteen-year-old Jess is on a road trip to the end of the world. Her evangelical father has packed up the family and left their Montgomery, Alabama, home behind to drive west in anticipation of the rapture, hoping to save as many souls as possible before the imminent Second Coming. With her long-suffering mother and her rebellious sister Elise, Jess hands out tracts to nonbelievers at every rest stop, Waffle House, and gas station along the way. Through sticky diners and in crowded motel pools, beneath bleached bedspreads and in the backseat of the family car, Jess and Elise whisper and squabble their way across the country. But as doomsday approaches, Jess can't seem to work up any real fear about the apocalypse when her sister's secret pregnancy and their increasingly frayed parents loom so much larger.
In this fresh and razor-sharp debut novel, teenage angst and evangelical ardor make a pilgrimage across an endlessly interchangeable American landscape of highways, motels, and strip malls. Sporting a "King Jesus Returns!" t-shirt and well stocked with end-times pamphlets, Jess makes semi-earnest efforts to believe but is thwarted at every turn by a string of familiar and yet freshly rendered teenage obsessions. From "Will the world end?" to "Will I ever fall in love?" each tender worry, big and small, is brilliantly rendered with emotional weight. Mary Miller reinvents the classic American literary road-trip story, reviving its august traditions with the yearning and spiritual ennui of twenty-first-century adolescence. As the last day approaches, Jess's teenage myopia gradually gives way to a growing awareness of the painful undercurrents of her fractured family.
With a deadpan humor and a savage charm that belie a deep sympathy for her characters, Miller captures the gnawing uneasiness, sexual rivalry, and escalating self-doubt of teenage life in America, where the end always seems nigh and our illusions are necessary protections against that which we can't control
The Last Days of California: A Novel
by Mary Miller
Overall Review:
I would have never heard about this book if it weren't for a patron requesting it be purchased for circulation at the library where I work. I would have missed out on a magnificently written book.
One of the reasons that I liked this book so much is that the narrator, a teenager named Jess, has spunk and personality. And though she is living in the shadow of her older sister, she is making her own way and name for herself...or trying to. Elise, Jess's older sister, is a rebellious, moody girl who often puts Jess down or pokes fun at her antics an ideas, but Jess is has guts and doesn't take any of it to heart. She knows her sister and loves her despite her many faults. While these two sisters and their parents are on a road trip across the country, they learn many things about life, love, and their religion. They learn that life can be hard, loving can be harder, and their religion may not be all it is cracked up to be.
Reading this book was a breeze. I felt as though I were sitting in the passenger seat beside Jess and her family, listening in on their interesting conversations, and laughing at their crazy beliefs. When I got to several parts in the story I paused to ponder the fact that even though this was a work of fiction, there are people out there that hold the belief that the world is in its last days, and that if you aren't saved, you will inevitably go to hell. Although this book kept things on the light side, there was an underlying tone of foreboding throughout, as the characters were sure that the fate of mankind lay in their hands. This was an entertaining book that I was sad to see end so soon. I think most anyone, whatever their religious stance, will find this book an enjoyable read.
Content Analysis:
Profanity/Language: 3 religious exclamations; 3 mild obscenities; 4 derogatory names; 9 scatological words;3 anatomical terms; 8 F-Word derivatives
Violence/Gore: A character is mentioned to have been beaten to death, no explicit detail given; a car crash is briefly described, some blood is mentioned and a character dies.
Sex/Nudity: Adults kiss; minors are mentioned to be sexually active; minors kiss; minors have sex in one brief non-descriptive scene; sex is referred to in conversation multiple times; a teen girl is pregnant and unmarried.
Mature Subject Matter:
Personal crises, religion, underage drinking.
Alcohol / Drug Use:
Adults drink; minors drink; drug addicts are mentioned; minors smoke.
Reviewed By Lydia